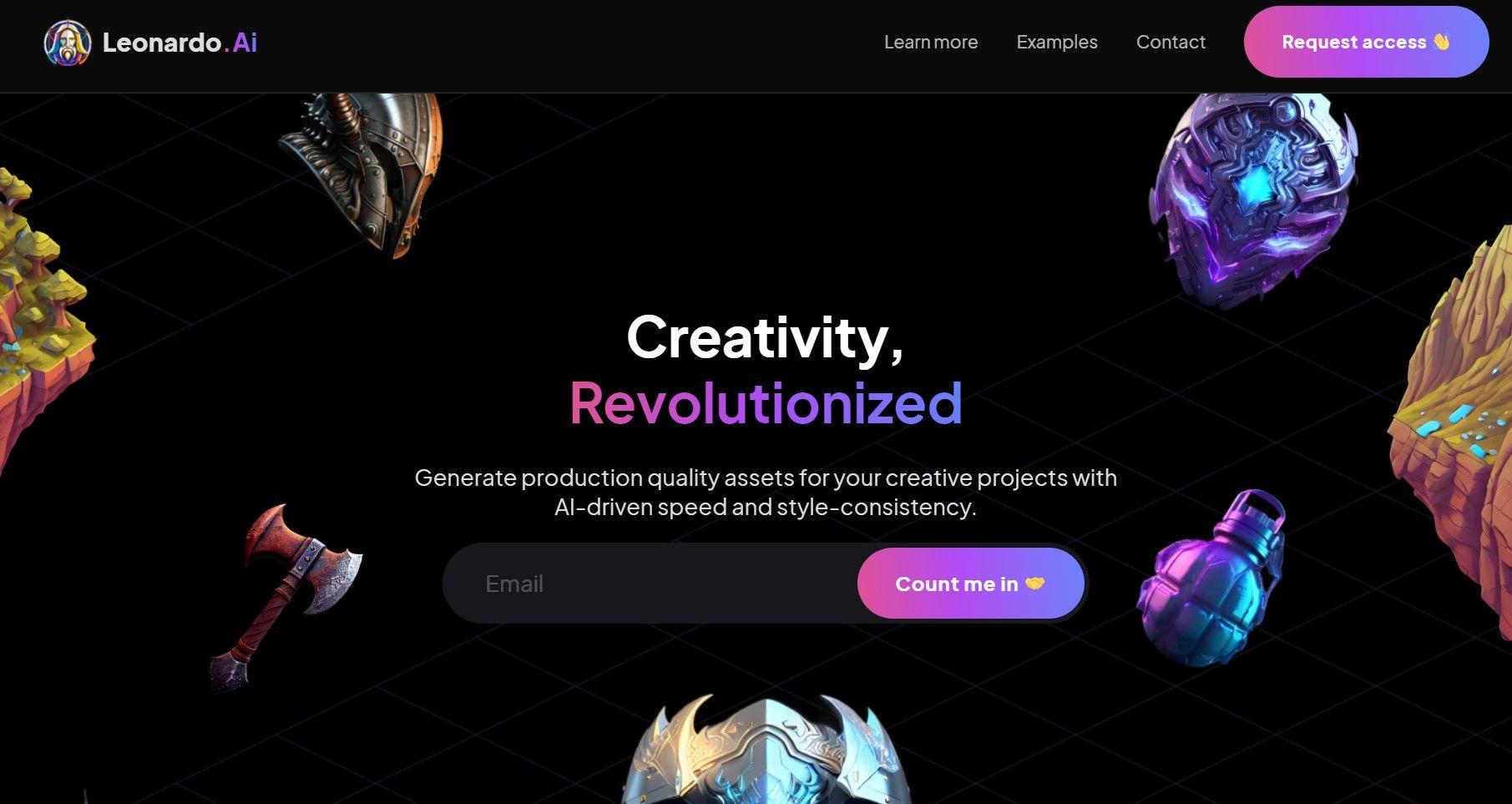 Have you grown weary of making game components by hand? Do you wish to use AI to produce high-quality game assets? Leonardo AI is the ideal tool for you if so! Using AI algorithms, Leonardo AI creates incredible gaming assets including goods, characters, caps, architecture, and concept art. Leonardo AI is the ideal tool for creative professionals, corporations, and individuals that need high-quality visual content because, unlike other AI picture generators, it concentrates on creating assets for video games. This tutorial will demonstrate how to register with Leonardo AI and use its remarkable capabilities.
How to Sign up for Leonardo AI?
To use the power of Leonardo AI, you need to create an account. You can effortlessly set up your account using the following steps:
Visit the Leonardo AI website (https://leonardo.ai/).
Enter your email address below the "Signup for exclusive early-bird access" text.
Click Count Me In.
Wait until Leonardo AI accepts your request.
Until then, click the Join Discord button and create your Discord account by entering a username.
Enter your birthdate in the next step.
You will see a popup window. Keep it open and go to your email account.
Open the email you received from Leonardo AI and click the Join Discord server link.
Click Accept Invite.
Enter your email address and password and click Claim Account.
Verify your email account.
Go to the Discord account and answer the questions on your screen.
Click the Introduction option in the left side menu.
Briefly introduce yourself by typing your name and information in the message bar at the bottom. An Automoderator will respond to your message.
Click the Priority Early Access link and fill out the form.
Now, wait until Leonardo AI responds to your request. It usually takes 24 hours.
How to log into Leonardo AI?
The Leonardo AI login method is simple. Once Leonardo approves your account, you can sign in using the following steps:
Visit the https://app.leonardo.ai/auth/login page.
Click log in to leonardo.ai.
Enter your Email address and password or sign in using your Google or Microsoft account.
Enter a username.
Answer the questions on the login page and click I am above 18 years old.
Click Start using Leonardo. You can now access this incredible AI art generator on your device.
How to use Leonardo AI?
Leonardo's user interface is easy to navigate and use. Users can crop, resize, and alter the color of the generated photos in a few steps. You can log into your account and use it by applying the following steps:
Visit Leonardo AI's login page and sign into your account.
Select the option you want to explore from the left sidebar. You can use the canvas editor, train your model, or upscale image options.
Move your cursor over the image to edit it. You can also try the editing tools in the sidebar to create your model.
Using Leonardo.AI to Generate Game Assets
Leonardo.AI presents its exclusive "Leonardo Creative" model, revolutionizing the generation of diverse digital assets in mere seconds. To embark on this creative journey, simply navigate to our image generation page and provide a prompt specifying the type of digital asset you desire. For instance, you can request a captivating "space warrior mage character" with a full-body illustration against a mesmerizing gradient background.
Once you have shared your prompt with our AI, prepare to be presented with a range of captivating images to choose from. Handpick the base image that perfectly aligns with your vision. To further enhance the quality of your selected image, you have the option to "Upscale Image." Additionally, we offer various other features such as "Remove Background," "Download Image," "Zoom in (Zoom Out) Image," "Use for Image to Image," and "Delete Image" to cater to your specific needs.
To fine-tune the results and truly customize your creation, we recommend exploring the "Image to Image" option. This allows you to activate an additional prompt, elevating your creative possibilities.
Unleash your imagination by experimenting with the initial strength parameter. This will enable you to maintain the essence of your input image while generating unique and imaginative outcomes. For example, if your desired creation is a fascinating "space monkey mage character" with a full body, utilizing an initial strength of 0.5 can yield remarkable results. Feel free to adjust the initial strength to generate more or less variation according to your preferences.Furthermore, our Guidance Scale feature empowers you to shape the AI's response to your prompts. You can amplify or diminish the influence of your prompts by adjusting the Guidance Scale accordingly. For instance, if you envision a delightful "smiling space monkey mage character" with a full body, a Guidance Scale of 10/20 can ensure the AI prioritizes your desired outcome. Conversely, if you seek to diverge from your prompt and encourage more creative freedom, a lower Guidance Scale, such as 3, will provide the desired effect.
Try using these prompts
Question 1: elaborate pencil illustration of a wrinkly, elderly Filipina woman from a police mugshot Stunning interpretive visuals by Tom Bagshaw, Zdzislaw Beksinski, Yoshitaka Amano, Raffaello Ossola, Martin Wittfooth, Luigi Spano, and Vladimir Kush
Prompt 2: Fantasy wildlife shot of a charming newborn dragon from the Nebula with large eyes beside a flowing stream under a starlit sky, Shot with a 200mm Nikon Z9 lens, sharp focus, and a 0.4-stop depth of field for mushrooms, stars, other fantasy objects
Prompt 3: 4 year old cute girl, cute, long curly brown hair, making friends with beautiful angel, disney style, story book illustration
Prompt 4: Stunning eco-luxury futuristic home::2 Gorgeous dramatic landscape shot including a snowy foggy mountainous forest environment, streams, waterfalls, crepuscular rays, and bokeh was created by Zaha Hadid, Norman Foster, I.M. Pei, and Jean Nouvel.
Prompt 5: Beautiful dramatic dynamic footwear photography: psychedelic magical melting dripping sublimating swirling mist fog smoke glitter, explosion of colour, exploding into flowers, shimmering sparkling bokeh; designed by Christian Louboutin and Jimmy Choo; stylish flowerpunk filigree liquid vitreous enamel combat boots