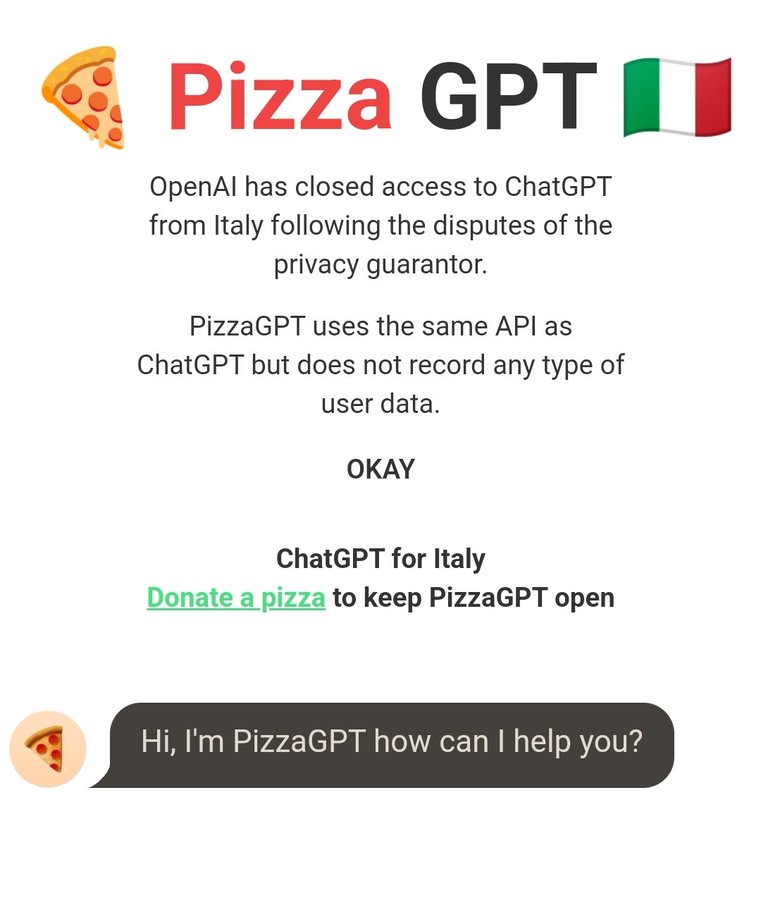 Recent privacy concerns have led OpenAI to limit ChatGPT usage in Italy. Many companies and individuals are now looking for a trustworthy language processing solution as a result of this. Fortunately, PizzaGPT is the answer. As opposed to ChatGPT, this alternative AI language model does not record any user data, albeit using the same APIs. In this post, we will examine PizzaGPT, compare it to ChatGPT, and discuss why it would be the ideal language model for people concerned about security and privacy.
Introducing PizzaGPT – An Alternative to ChatGPT
The Privacy Guarantor in Italy raised concerns and consequently banned the use of ChatGPT. However, in a remarkable display of collective effort, the internet swiftly responded by developing its own version of the popular OpenAI chatbot within a matter of days. This gave rise to PizzaGPT, an unofficial clone conceived as a workaround to the ChatGPT block imposed in Italy.
PizzaGPT has been gaining significant traction as an AI language model that prioritizes user privacy and security. Crafted by a team of skilled software developers, PizzaGPT offers all the advantages of ChatGPT while ensuring that no user data is stored or recorded.
Diverging from ChatGPT, which is owned and operated by OpenAI, PizzaGPT operates as an entirely independent project without any affiliations to specific companies or organizations. This autonomy guarantees users that their data will never be shared or exploited for purposes beyond enhancing the performance of the language model itself.
What is PizzaGPT?
PizzaGPT emerged as an alternative chatbot to address the blockage of ChatGPT in Italy. The founder of PizzaGPT, an Italian resident living abroad, created the chatbot with the belief that artificial intelligence should be a transformative tool accessible to all, much like the Internet has been.
PizzaGPT utilizes technologies such as Nuxt 3, Tailwind, and DaisyUI, while relying on OpenAI's turbo-3.5 model API for both chat functionality and interface. Although PizzaGPT aims to provide responses similar to those of ChatGPT, its visual presentation appears more rudimentary, akin to a homemade pizza.
Presently, Bing Chat, which leverages Microsoft's Bing AI based on GPT 4, remains accessible and is widely regarded as one of the most impressive conversational artificial intelligence systems available online.
How does PizzaGPT work?
PizzaGPT relies on OpenAI's turbo-3.5 model API, just like ChatGPT. The chatbot's graphics maintain a simplistic and schematic design, akin to ChatGPT. However, given that the website was hastily created within a short span of time, it may contain bugs and areas that could be improved. The founder acknowledged the primary objective of launching something quickly.
PizzaGPT is accessible across various devices with an internet connection. Users can engage with the chatbot by visiting the website and entering their messages. The chatbot processes the input and generates a response, akin to the functioning of ChatGPT. At present, the future trajectory of the platform remains uncertain.
How Does PizzaGPT Compare to ChatGPT?
PizzaGPT performs on par with ChatGPT in terms of effectiveness. To produce excellent, natural-sounding writing, both language models employ the same APIs and algorithms. PizzaGPT is just different in that it doesn't gather any user data, making it a more safe and private solution.
In addition, PizzaGPT differs from ChatGPT in a number of ways. For instance, PizzaGPT uses cutting-edge machine learning algorithms to provide quicker response times and more precise forecasts. Additionally, it can generate text in a greater variety of languages, making it a useful tool for both individuals and organisations.
Why Choose PizzaGPT?
If you're looking for a reliable and secure language model, then PizzaGPT is definitely worth considering. Here are just a few reasons why:
Privacy – Unlike ChatGPT, PizzaGPT does not record any user data, which means that your privacy is always protected.
Accuracy – Thanks to its advanced machine learning algorithms, PizzaGPT is able to generate highly accurate and natural-sounding text.
Versatility – PizzaGPT offers a wide range of language options and can generate text in multiple languages, making it a versatile tool for businesses and individuals alike.
Speed – PizzaGPT offers faster response times than ChatGPT, which means that you can get the results you need more quickly.
Ease of Use – PizzaGPT is easy to use and requires no technical expertise, making it accessible to anyone who needs to generate high-quality text.
In Conclusion
The availability of ChatGPT remains uncertain as OpenAI, the parent company, has imposed an indefinite block on the chatbot following the temporary suspension by the Privacy Guarantor. Sam Altman, the founder of OpenAI, stated on Twitter that the measure was taken as a precautionary step and emphasized ChatGPT's compliance with user privacy laws. Altman also expressed OpenAI's commitment to working with the Italian government to address the situation and find a resolution in the near future.
In conclusion, PizzaGPT serves as an alternative chatbot to address the unavailability of ChatGPT for Italian residents, granting them access to artificial intelligence technology. The software utilizes OpenAI's turbo-3.5 model API, offering responses and graphics similar to ChatGPT. However, given the quick development of the website, there may be existing bugs and areas for potential improvement. The future trajectory of the platform remains uncertain, yet it stands as an innovative solution to the ChatGPT blockage in Italy.