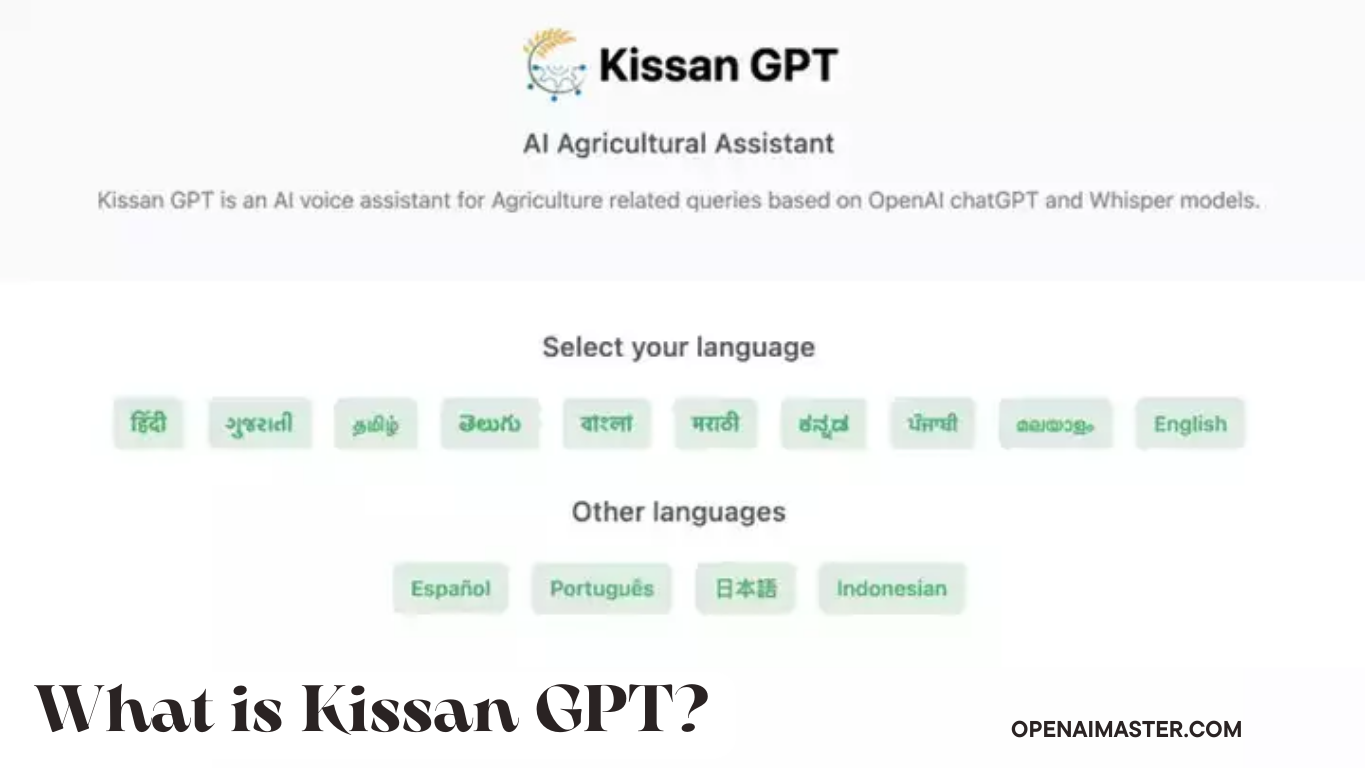 What is Kissan GPT?
A chatbot powered by AI named Kissan GPT was created to offer prompt advice on areas including crop cultivation, irrigation, pest control, and other aspects of agriculture. It blends ChatGPT technology with its own knowledge base to deliver thorough answers to consumers' questions in a matter of seconds. The chatbot's objectives are to increase yields and assist India's underserved agricultural sector.https://kissangpt.com/
Everything you need to know about Kissan GPT
The Kissan GPT initiative has garnered positive feedback from farmers who have utilized it, expressing that it has assisted them in making informed decisions regarding their crops and yields. The AI chatbot encompasses various agricultural topics such as irrigation, pest control, and crop cultivation, providing answers from its extensive database.
Launched on March 15, 2023, Kissan GPT specifically targets the underserved agriculture sector in India. It aims to cater not only to farmers but also to individuals with an interest in agriculture, including researchers and students. The developers have emphasized its usefulness in showcasing the profitability of Indian squash, demonstrating how it can yield up to Rs 5 lakhs ($6,103) in profits. This feature is intended to aid farmers in increasing their earnings.
Pratik Desai, the computer scientist leading the project, shared an update on Kissan GPT via Twitter on March 31. He mentioned that the chatbot is progressing towards serving 10% of farmer call centers. Additionally, Desai expressed the platform's eagerness to collaborate with the Indian government and agricultural institutes to enhance outcomes.
Kissan GPT is designed to be user-friendly and accessible to farmers across India, regardless of their location or educational background. It distinguishes itself by allowing farmers to ask queries using voice input through a microphone. Farmers can engage with Kissan GPT using their smartphones, communicating in their preferred language to receive detailed responses to their inquiries. The chatbot supports ten languages, including Hindi, English, Gujarati, Marathi, as well as foreign languages such as Japanese, Portuguese, and Indonesian.
Kissan GPT Interface:
Its user interface is one of its distinctive qualities. It does away with the requirement for text inputs by processing voiced queries via the user's phone or laptop's microphone, in contrast to other well-known AI chatbots. Ten different Indian languages, including Hindi, English, Marathi, Bengali, and Gujarati, as well as Spanish, Japanese, Portuguese, and Indonesian, can be communicated with using the chatbot. Farmers may use their cellphones to interact with the chatbot in their favourite language and get prompt answers to their questions.
How does Kissan GPT work?
To respond to users' questions, Kissan GPT makes use of both its own knowledge base and the ChatGPT technology created by OpenAI. The chatbot uses ChatGPT-3.5-turbo, and it is anticipated that the incorporation of GPT-4 and customised embeddings would further enhance its capabilities. It is not just valuable for farmers, but also for everyone else interested in agriculture, including scholars, researchers, and amateurs.
What's next for Kissan GPT?
Kissan GPT is on track to take care of 10% of the calls made to farmer call centres, according to Pratik Desai. To enhance outcomes, the platform is also seeking collaboration with governmental and agricultural institutions. Desai also addressed the creation of mobile apps and the impending addition of two more languages. Desai is also working on Bharat GPT, which is anticipated to serve a larger segment of the Indian population.
Conclusion
In conclusion, Kissan GPT is a game-changer in the Indian agriculture domain, offering immediate guidance and assistance to farmers, researchers, students, and hobbyists alike. the chatbot's distinctive features, such as its voice-based interface and the ability to communicate in ten different languages, make it a valuable tool for the underserved farming communities in India. with its continued growth and expansion, it is poised to revolutionise the way we approach agriculture.