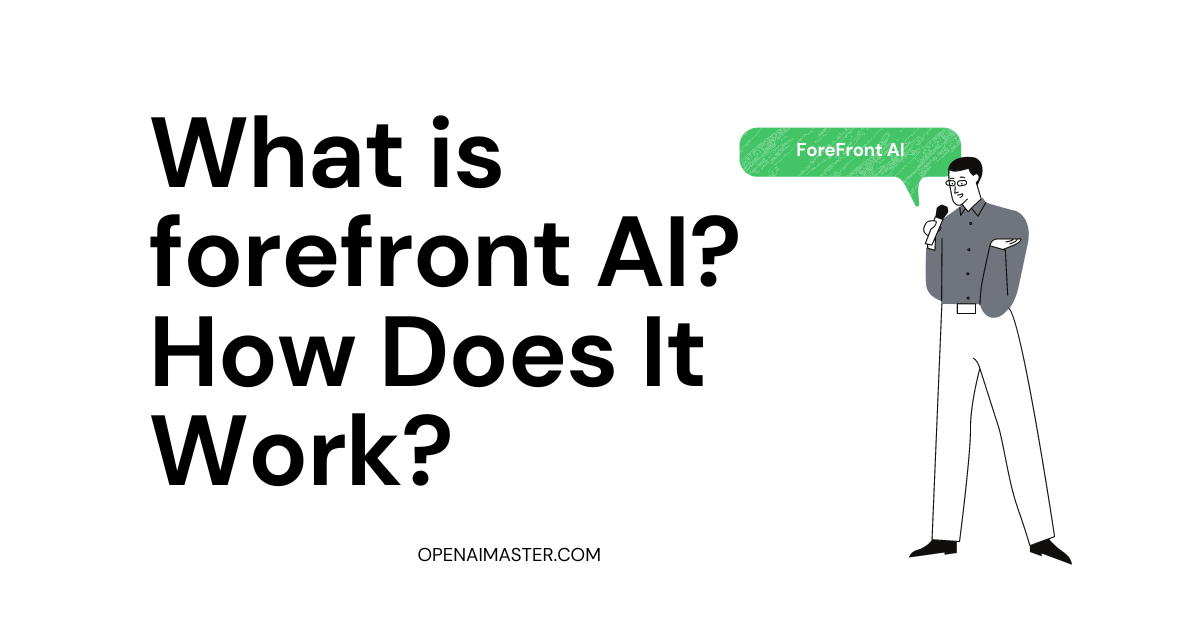 Forefront AI is the solution if you're seeking for a potent platform that can improve your business's capacity for natural language processing. Forefront AI, with its cutting-edge technology, provides a superior ChatGPT experience with free access to GPT-4, picture generating, bespoke personalities, and sharing chats. The platform's adaptable models make it appropriate for a range of jobs involving natural language and code, making it a necessity for companies trying to optimise procedures and boost productivity. We'll look at What is Forefront AI, How It Works, how to create an account, the technology in use, and its main features in this article.
How to Sign Up for a Forefront AI Account
Signing up for a Forefront AI account is quick and easy. Follow these simple steps to create your account:
Visit the Forefront chat website at https://www.forefront.ai/.
If you don't have an account, click on the "Sign up" button.
You will be presented with two sign-up options: using your Google account or your email address. a. To sign up with your Google account, click on "Continue with Google" and follow the provided prompts. b. To sign up with your email address, enter your email and click on "Continue." Follow the on-screen instructions to complete the account creation process.
Once you have successfully signed up, you will gain free access to various features, including GPT-4, image generation, custom personas, and shareable chats.
How Does Forefront AI Work?
Modern technology is used by Forefront AI to transform natural language processing for businesses. With the platform's adaptable natural language processing, customers can use merely 100 training samples to fine-tune their models to fit certain applications and workflows. Users can register for a Forefront AI account and gain access to the platform's services, including chatbots, virtual assistants, automated data entry, and enhanced search functionality, along with free access to GPT-4, image production, custom personas, and sharing chats. The platform's goal is to give businesses a competitive edge by streamlining procedures and boosting productivity through natural language processing.
What is the Technology Behind Forefront AI?
The processing, understanding, and production of natural language are at the heart of the Forefront AI technology. It makes use of cutting-edge technology to offer unmatched comprehension and creation skills for a range of jobs involving natural language and code. To provide a better ChatGPT experience, the platform uses cutting-edge AI models like GPT-4, which includes image generation, personalised personalities, and sharing chats. Forefront AI helps businesses use chatbots, virtual assistants, automated data entry, and improved search capabilities on websites and applications to optimise workflows, boost efficiency, and enhance customer service.
Key Features of Forefront AI
Forefront AI offers several key features that make it stand out from other natural language processing platforms:
Versatility: The platform's models are highly adaptable and suitable for a wide range of natural language and code-related tasks. This flexibility ensures its usefulness across various applications and industries.
Customizable natural language processing: Forefront AI empowers users to fine-tune the models according to their specific requirements. With as few as 100 training examples, you can customize the platform to cater to your unique applications and workflows effectively.
Enhanced customer service: Forefront AI supports the integration of chatbots and virtual assistants, enabling businesses to enhance their customer service capabilities. These AI-powered tools improve user experience by providing prompt and accurate responses to customer queries and concerns.
Automated data entry and analysis: By leveraging Forefront AI, businesses can automate labor-intensive tasks such as data entry and analysis. This streamlines processes, saves time, and increases overall efficiency within organizations.
Improved search functionality: Forefront AI enhances the search functionality on websites or applications. Its advanced algorithms enable more accurate and relevant search results, improving the overall user experience.
Access to GPT-4: Users of Forefront AI have the privilege of accessing GPT-4, a cutting-edge AI language model. GPT-4 offers advanced capabilities for generating high-quality text and addressing complex language tasks.
Image generation: Forefront AI also enables users to generate images using its AI-powered capabilities. This feature can be beneficial for a range of applications, including graphic design, content creation, and creative projects.
HOW TO MAXIMIZE THE USE OF FOREFRONT AI
Now that you have an idea of what Forefront AI is and how it works, it's time to learn how to maximize its use. Here are some tips and tricks to help you make the most out of the platform:
Fine-tune your model: Take advantage of Forefront AI's customization options to fine-tune your natural language processing model. This will allow you to optimize its performance for specific applications and workflows, ensuring accurate and tailored results.
Harness chatbots and virtual assistants: Integrate chatbots and virtual assistants into your customer service processes. These AI-powered tools can improve response times, provide accurate information, and enhance the overall customer experience.
Automate data entry and analysis: Utilize Forefront AI's automation capabilities to streamline data entry and analysis tasks. By automating these processes, you can save time and increase efficiency within your organization.
Optimize search functionality: Enhance the search capabilities of your websites or applications with Forefront AI. This will improve user experience by delivering more relevant and accurate search results, helping users find what they need quickly and easily.
Explore image generation: Experiment with Forefront AI's image generation feature to add visual appeal to your content. This can be particularly useful in creative projects, graphic design, and content creation where visual elements play a crucial role.
Share and collaborate: Save and share your conversations on Forefront AI to facilitate collaboration with team members and share valuable insights with others. This can foster knowledge sharing and improve teamwork.
CONCLUSION
A sophisticated technology called Forefront AI has the potential to transform how businesses handle natural language processing. Companies may streamline procedures, boost productivity, and enhance customer service with the help of Forefront AI's configurable models, chatbots, virtual assistants, automated data entry and analysis, increased search functionality, and other services. Forefront AI is a useful tool for any business trying to get a competitive edge in today's market because to its cutting-edge technology and user-friendly design. Why not give it a shot and see if it can help your company?