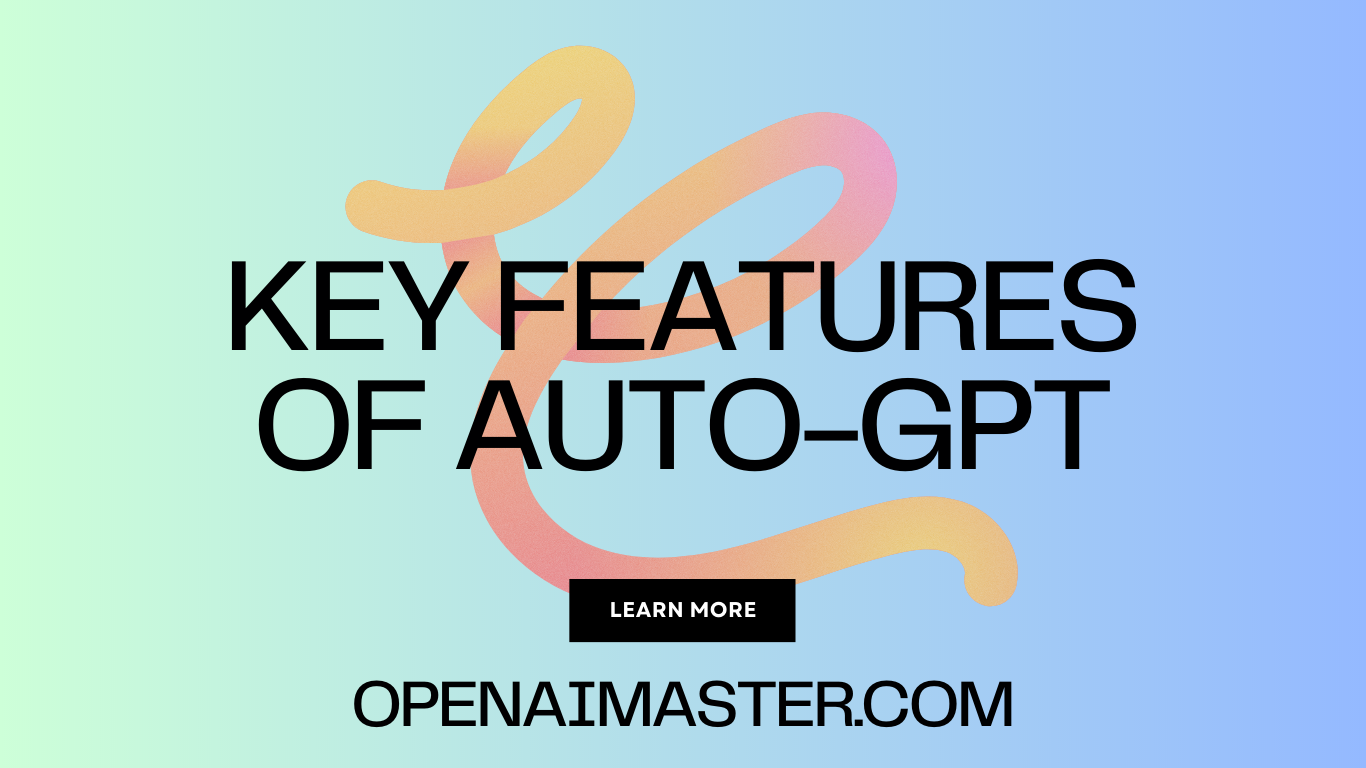 What is AutoGPT?
In order to automate the completion of multi-step projects that would have required back-and-forth urging if you worked directly with GPT-4, Auto-GPT employs OpenAI's large language model, GPT-4. It enables GPT to function autonomously, free from the need for a human agent to direct every move. Among other things, Auto-GPT can answer inquiries, translate across languages, summarise text, and make recommendations. It is publicly accessible on GitHub but uses Python and requires OpenAI and Pinecone API keys, thus using it will likely require some programming knowledge.
What are the main features of AutoGPT?
The Generative Pre-trained Transformer (GPT) in ChatGPT may now work autonomously without needing a human agent to direct it at every turn thanks to the open-source AI effort known as Auto-GPT. The capacity of Auto-GPT to rewrite its own code is one of its distinguishing characteristics, making it a very potent tool for developers. Auto-GPT is capable of independent internet searches as well as actions like computer file storing. It has integrated text-to-speech using ElevenLabs and long/short term memory. Among other things, Auto-GPT can produce content that seems like it was written by a human, respond to inquiries, translate across languages, sum up text, and provide suggestions. It is currently an experimental project, and using the tool in any useful way necessitates programming knowledge.
Its primary attributes include multi-purpose functionality, autonomous functioning, goal-oriented functionality, and an intuitive user interface. In addition to providing internet connectivity for data collection and study, AutoGPT has also enhanced both short-term and long-term memory. It divides AI actions into "thoughts" and is based on GPT-4. AutoGPT's degree of independence, which enables it to function without specialised programming skills, is one of its most crucial aspects.
Key Features Of AutoGPT
AutoGPT is a sophisticated application with a plethora of capabilities intended to facilitate and improve information collecting and text generation. Internet access is one of its important benefits because it enables speedy searching and information gathering from a range of online sources.
Additionally, the tool has the ability to store and retrieve information as needed because to its short-term and long-term memory management features. As it can assist assure correctness and uniformity across the work, this feature can be very helpful when creating longer texts.
The use of GPT-4 instances by AutoGPT for text production is another important feature. A state-of-the-art language model called GPT-4 can produce text that is both highly accurate and contextually acceptable for a variety of subjects and writing styles. Using this effective technique, AutoGPT can produce writing that is of a high standard and that is both interesting and educational.
Access to numerous well-known websites and platforms is also made possible by AutoGPT, making it simple to locate and compile data from a number of sources. The application also has file storage and summarising features that let users easily and swiftly summarise lengthy texts utilising the potent GPT-3.5 language model.
Overall, AutoGPT is an extremely sophisticated and adaptable programme that is perfect for a variety of text generating and data collection jobs. It is the best option for anyone trying to boost their efficiency when working with text-based content because of its many features and capabilities.
Conclusion
AutoGPT is an AI-based language generation tool that offers a range of features that make it an essential tool for content creators. These features include natural language generation, multi-lingual support, customizable output, automatic summarization, content curation, and continuous learning. By harnessing the power of AutoGPT, businesses and individuals can generate high-quality content quickly and efficiently, thereby saving time and resources. If you're looking for an AI-based language generation tool that can help you create high-quality content, AutoGPT is definitely worth considering.