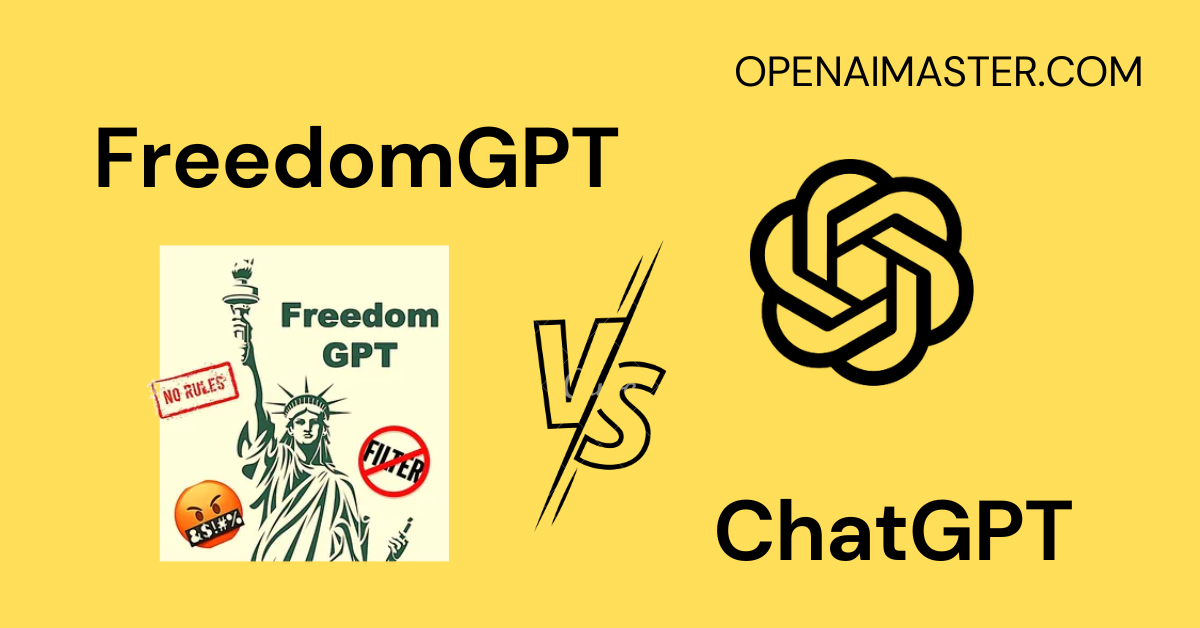 Are AI chatbots something you're interested in but unsure which one to pick? There are other choices, such as ChatGPT and FreedomGPT. Which AI chatbot between Freedom GPT and ChatGPT is better for you? Both are AI chatbots that produce text using cutting-edge language models. They take different approaches to censorship and content regulation, though. To assist you in making an informed choice, we will examine the distinctions between ChatGPT and FreedomGPT in this post.
Two AI chatbots, ChatGPT and FreedomGPT, take conflicting stances on content moderation and censorship. While FreedomGPT, developed by Age of AI, asserts that it can respond to any inquiry without restriction, ChatGPT, developed by OpenAI, prioritises safety safeguards to stop the development of harmful or unsuitable information.
What is ChatGPT?
Users can conduct discussions with a chatbot that sounds like a human being thanks to ChatGPT, an artificial intelligence chatbot created by OpenAI. It is constructed on top of OpenAI's GPT-3.5 and GPT-4 methodologies and intended to help with a range of tasks including question answering, email composition, essay writing, and coding. ChatGPT is a versatile programme that has been improved from a model in the GPT-3.5 series. It can build and debug computer programmes as well as compose music, teleplays, fairy tales, and student essays. However, it has limitations and occasionally generates responses that are right but erroneous or illogical. Since ChatGPT currently poses a number of potential hazards, including as spreading false information and violating intellectual property rights, it is not intended to be a tried and trusted source.
What is Freedom GPT?
An open-source AI language model called Freedom GPT was created to emulate human language patterns and produce natural language. It is renowned for its capacity to produce excellent answers to a variety of questions, from straightforward inquiries to more challenging jobs like writing essays or poems. Freedom GPT is a flexible tool with several uses, including as content development, marketing, and customer support. You can visit the FreedomGPT GitHub site and download the programme, among other options, to download and install it. Freedom GPT is a desktop programme that enables users to run alpaca models on their personal computer. It was created using Electron and React. It is an open-source artificial intelligence platform that supports neutrality, privacy, and customization.
Key Features of ChatGPT
ChatGPT has several features that make it stand out. These features include:
Generative Capabilities
ChatGPT can generate human-like text, making it ideal for tasks such as text generation and dialogue systems.
Fine-tuning Capabilities
ChatGPT is highly flexible and can be fine-tuned on specific tasks and datasets, making it perform well on a wide range of NLP tasks.
Pre-training on a Massive Dataset
ChatGPT is built on the structure of GPT-4 and is pre-trained on a large dataset, which enables it to understand and generate contextually relevant responses.
Large Number of Parameters
ChatGPT's underlying model has a large number of parameters, allowing it to handle complex language tasks.
Handling of Rare or Out-of-Vocabulary Words
ChatGPT can effectively handle rare or out-of-vocabulary words, making it more versatile in understanding and generating text.
Memory
It remembers previous responses and prompts, allowing for more coherent and context-aware conversations.
ChatGPT Plus
ChatGPT Plus offers constant access even during peak demand, faster response times, and priority access to new features.
Open Source Customization
Soon, a FreedomGPT open-source variant will be made available, enabling people and organisations to alter it for certain high-stakes and secret workflows3. Businesses and organisations who must maintain a high level of conversational secrecy and security will find this option to be especially helpful.
Limitations of ChatGPT
ChatGPT, despite its impressive capabilities, does have certain limitations that can impact its performance and accuracy. These limitations include:
Potential for mistakes: As an evolving language model, ChatGPT is not infallible and can occasionally provide incorrect answers or responses.
Difficulty understanding context: ChatGPT may struggle to grasp contextual nuances, such as sarcasm, humor, or subtle aspects of human communication. This can lead to misunderstandings or responses that may not align perfectly with the intended meaning.
Limited knowledge: ChatGPT's knowledge is derived from its training data, and it may not possess information on very specific or niche topics. Furthermore, it might lack awareness of recent developments or changes in certain fields.
Training data limitations: ChatGPT's performance is influenced by the training data it has been exposed to. Insufficient or biased training data can affect its responses and accuracy.
Hardware and computational limitations: Running ChatGPT on low-end hardware or systems with limited computational power can result in slower processing times, decreased accuracy, and other performance issues.
Limitations of Freedom GPT
Freedom GPT is an AI language model that holds immense potential for revolutionizing our interactions with technology. However, it is important to acknowledge the limitations associated with its usage. These limitations include:
Offensive responses: Freedom GPT can occasionally generate offensive or indecent content, disregarding the principles of human decency and respect.
Resource-intensive training: Training and deploying Freedom GPT require substantial computational resources, which can be costly and time-consuming, posing challenges for smaller businesses or organizations with limited means.
Freedom of speech and privacy concerns: The development of GPT models like Freedom GPT raises questions about freedom of speech and privacy rights. The generated text can closely resemble human-generated content, making it difficult to discern the origin. This can have implications for privacy and the potential misuse of AI-generated content.
It is essential to approach the development and utilization of Freedom GPT responsibly. Developers should prioritize transparency by openly sharing information about the training data and methodologies employed. Vigilant monitoring is crucial to identify and rectify biases and errors in the model's performance. Moreover, ethical guidelines should be established to ensure the responsible and ethical use of Freedom GPT.
Differences between ChatGPT and FreedomGPT
Content Moderation and Censorship Policies
The censorship and content control practises of ChatGPT and FreedomGPT are among their most notable variances. Built-in safety features in ChatGPT stop the creation of offensive or hazardous content. FreedomGPT, on the other hand, is intended to offer unfiltered answers to any queries without the use of any safety filters.
Target Market and Support Options
ChatGPT is a web programme that is designed for conversation and serves a variety of markets, including chat and writing support. In these sectors, ChatGPT is used by millions of users. FreedomGPT, a more recent AI chatbot, focuses on providing responses free of censorship. The search results do not, however, provide any precise information regarding FreedomGPT's intended audience or available assistance alternatives.
Language Model
OpenAI's GPT language model is used by ChatGPT to generate text. There are two versions of it: a free version and ChatGPT Plus, a subscription version that costs $20 per month. This version's AI chatbot is powered by OpenAI's sophisticated GPT-4 language model. In contrast, FreedomGPT provides unfiltered AI chatbot services using an open-source, seven billion parameter big language model.
Pricing
Even though ChatGPT has two versions—a free version and a premium version called ChatGPT Plus that costs $20 per month—the search results don't include any specifics regarding the cost of FreedomGPT. One may need to visit each company's website or get in touch with their support staff to learn more about ChatGPT and FreedomGPT's price options.
Final Words
Overall, ChatGPT and FreedomGPT are both potent AI chatbots with distinct features and functionalities. While FreedomGPT focuses on offering censorship-free AI chatbot services, ChatGPT is developed with safety controls and ethical guardrails to prevent the development of dangerous or improper content. In the end, the decision between the two comes down to the user's particular requirements and tastes, therefore it's advised to test out both chatbots to determine which one works best for you.