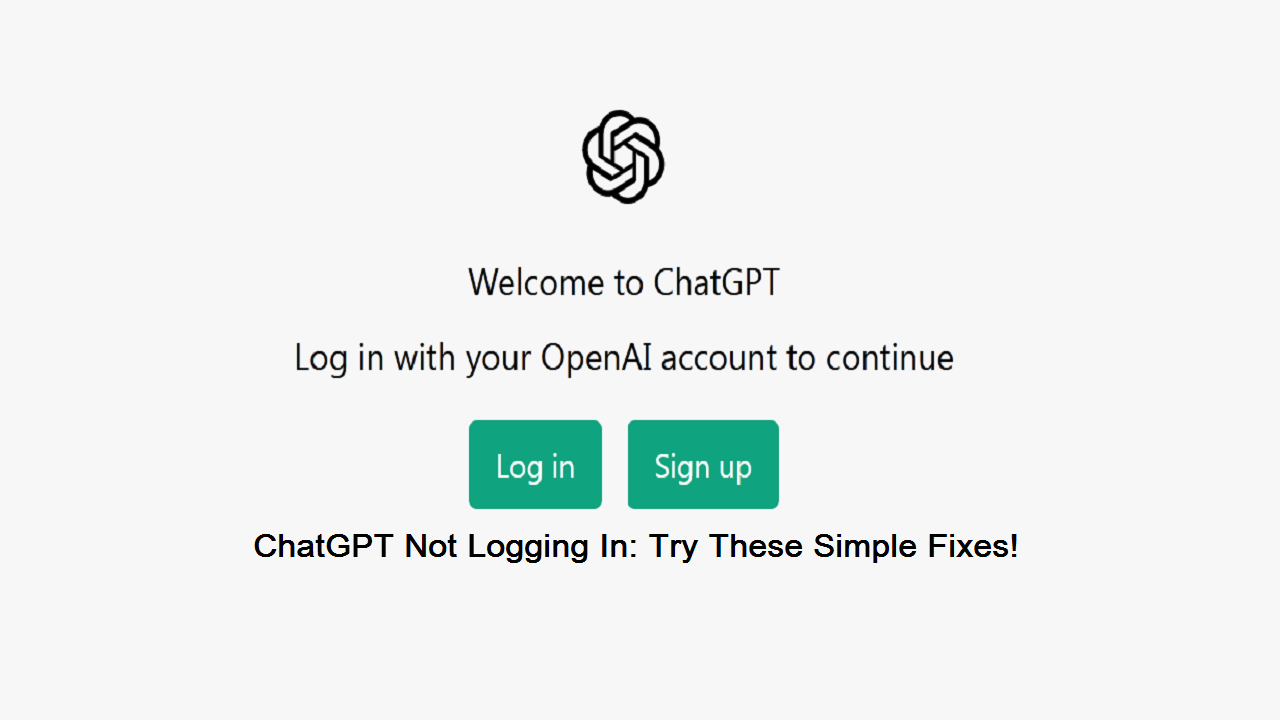 ChatGPT Not Logging In? Don't Panic! Try These Simple Fixes | ChatGPT login issues can be frustrating, but we've got you covered! From incorrect login credentials to server downtime, we've got the most effective solutions to help you troubleshoot your login issues.
Do you have trouble logging into ChatGPT? It's not just you! Numerous factors, such as outdated login information or downtime on the server, can cause login problems. In this article, we'll examine the most frequent causes of login problems and provide you some practical fixes to get you back in. So whether you're a frequent user or a new visitor, keep reading to learn how to fix your ChatGPT login problems and start utilising the service without any worry! We'll go over fixes including verifying your login information, deleting cookies and cache from your browser, trying a different browser, confirming your internet connection, and waiting and trying again later.
Common Reasons for Login Issues with ChatGPT
There are several common reasons why users might experience login issues with ChatGPT. Some of the most common causes include:
Platform Overload: In the event of ChatGPT facing a substantial surge in traffic, the platform's capacity might be overwhelmed, rendering it incapable of handling additional requests. Consequently, when attempting to log in during such circumstances, you may encounter the error message "ChatGPT is currently at full capacity."
Incorrect Login Credentials: If you find yourself unable to log in, it is plausible that you have entered an incorrect username or password. It is advisable to carefully verify and ensure the accuracy of your login credentials.
Browser Cache and Cookies: Login issues can occasionally arise due to the presence of cached data and cookies in your browser. To potentially resolve this matter, attempt clearing the cache and cookies of your browser.
Network Problems: Weak or unstable internet connections can also impede the login process. Prior to logging in, it is crucial to ensure that your internet connection is robust and stable.
Server Problems: In instances where ChatGPT experiences server issues or undergoes downtime, logging in will be unfeasible until the servers are restored and operational again.
Solutions to ChatGPT Login Issues
If you're experiencing login issues with ChatGPT, there are several solutions you can try to resolve the issue. Here are some of the most effective solutions:
Double-check your Login Credentials
One of the primary causes for encountering login difficulties in ChatGPT is the usage of incorrect login credentials. If you find yourself unable to log in, it is highly likely that you are entering an incorrect username or password. Therefore, it is crucial to diligently cross-verify your login credentials to ensure that you are providing accurate information.
To begin, double-check whether you are entering the precise username and password. Occasionally, users may possess multiple accounts with distinct login credentials, so it is imperative to utilize the correct credentials corresponding to the specific account you are attempting to access.
Clear Browser Cache and Cookies
If you're having issues logging into ChatGPT, you may also try clearing the cache and cookies in your browser. It's crucial to remove your browser's cache and cookies to ensure a successful login because they can occasionally interfere with login attempts. By heading to the settings or options menu of your browser and selecting the option to clear browsing data, you can delete the cache and cookies. Check to check whether the problem has been fixed after clearing your cache and cookies by attempting to log into ChatGPT once more. You might attempt additional options to resolve the login issue if clearing your cache and cookies doesn't help.
Try a Different Browser
If you encounter difficulties logging in to ChatGPT, it is possible that the problem lies with your browser. Certain browsers may not be fully compatible with ChatGPT or could experience issues with their cache and cookies, leading to login problems. In such instances, switching to a different browser such as Firefox or Chrome can be a potential solution.
To switch to another browser, you can download and install it on your device. Afterward, launch the newly installed browser and visit the ChatGPT website to attempt logging in again. If this resolves the issue, it suggests that the problem was specific to your previous browser.
It is important to note that if you continue to experience difficulties even after trying a different browser, the issue may not be browser-related. In such cases, it may be necessary to explore alternative solutions, such as checking your internet connection or reaching out to ChatGPT support for further assistance.
Check your Internet Connection
Examine your internet connection if you're having trouble logging in to ChatGPT. Logging in issues may arise from shaky or inconsistent internet connections. Make sure your internet connection is reliable and robust to solve this problem. You can accomplish this by looking at the network settings on your device, resetting your modem or router, or asking your internet service provider (ISP) for help.
To increase the signal strength when using a wireless connection, try getting closer to the router or access point. To free up bandwidth, try unplugging any additional devices that could be connected to the same network.
Wait and Try Again Later
If you have exhausted all the previously mentioned solutions and are still unable to log in to ChatGPT, it is plausible that the platform is encountering server issues or undergoing a period of downtime. During such circumstances, the servers may be temporarily inaccessible, resulting in the inability to log in until they are restored.
While it can be frustrating, it is important to exercise patience and await the resolution of the issue. To stay informed about any server-related problems or downtime updates, it is advisable to visit the ChatGPT online FAQs section. This resource may provide relevant information regarding ongoing maintenance, server issues, and estimated timeframes for service restoration.
If it is determined that the ChatGPT servers are indeed down, you will need to wait until they are back online to regain access to the service. In the meantime, you can periodically attempt the previously suggested solutions or consider trying to log in at a later time. It is crucial to avoid incessantly attempting to log in, as this could potentially overload the servers and prolong the duration of the downtime.
Contact ChatGPT Support
It's advised to contact their customer care team for more help if you've tried all the potential fixes given above and are still unable to log in to ChatGPT. To remedy the issue, they might be able to offer other options or escalate it to their technical staff. Through their website or app, as well as by email, phone, or live chat, you may get in touch with ChatGPT support. As much information as you can regarding the problem should be included, including any error messages you may have seen and the troubleshooting techniques you've already attempted. This will make it easier for the support staff to comprehend the issue and swiftly offer a suitable fix.
How to check if the ChatGPT servers are available
You can try to load the website and see if it loads properly to see if the ChatGPT servers are accessible. You can search social media sites like Twitter and Reddit for any signs of server downtime or outages if you have trouble accessing the website. As an alternative, you can use services like Downdetector, which can give information on the health of ChatGPT servers. You can try clearing your browser's cache and cookies or using a new browser to access ChatGPT if there are no complaints of server issues.
Conclusion
In conclusion, login issues with ChatGPT can be frustrating, but there are several solutions you can try to resolve the issue. Double-check your login credentials, clear your browser's cache and cookies, try a different browser, check your internet connection, and wait and try again later if all else fails. If you're still having trouble logging in, contact ChatGPT support for further assistance. By following these solutions, you should be able to log in to ChatGPT and start using it.