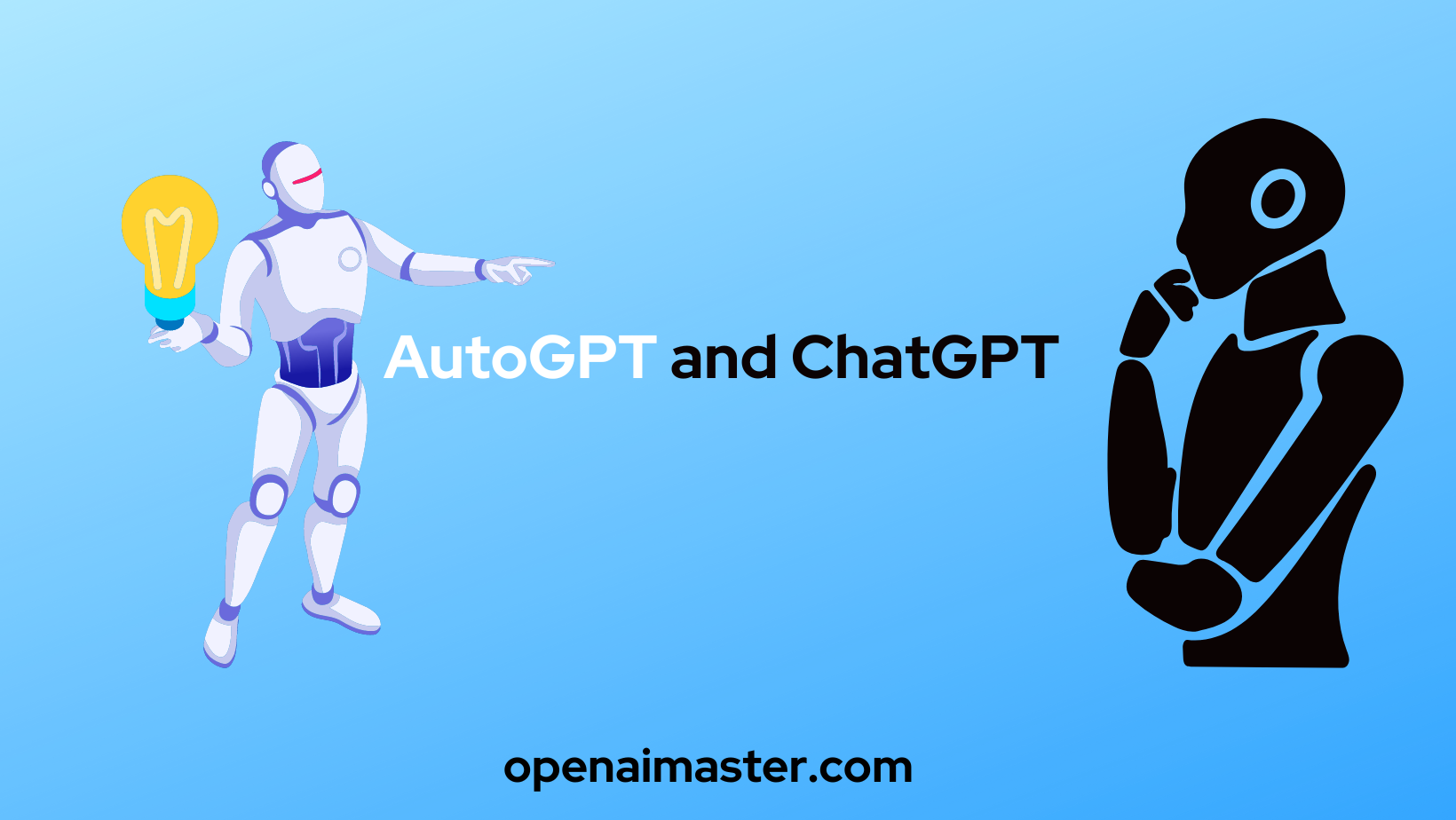 The way we think, work, and interact with technology has been completely transformed by artificial intelligence (AI). The creation of language models that can comprehend and generate human-like language is one of the main focuses of AI. Two such language models based on GPT technology are AutoGPT and ChatGPT. We shall examine these two models' characteristics, distinctions, and potential applications in this post.
What is AutoGPT?
An autonomous GPT-4 project called AutoGPT can create and run businesses on its own to boost net value. It is an open-source programme that displays the GPT-4 language model's possibilities. AutoGPT is a versatile tool that may be used for a number of things, such as autonomous Twitter bots, autonomous coding, and debugging.
How does AutoGPT work?
In addition to being able to comprehend spoken and written language, AutoGPT is also built to analyse and interpret information from a variety of sources, including news articles, social media activity, financial data, consumer behaviour, and market trends. Using this information, AutoGPT can create a workable business strategy and carry it out on its own. AutoGPT can also be used for internet planning and search, where it can locate pertinent data and present it in a comprehensible manner.
What are the potential applications of AutoGPT?
The corporate and entrepreneurial worlds could be completely altered by AutoGPT. Small and medium-sized enterprises can use it to streamline their processes, boost sales, and broaden their markets. Startups can also utilise it to create and introduce fresh goods and services. AutoGPT can also be used as a research tool to examine consumer behaviour, market trends, and other data to help businesses make decisions.
What is ChatGPT?
A chatbot called ChatGPT can be incorporated into a website, enabling users to communicate with it and get answers to their questions that resemble those of a human. It is capable of generating natural language answers to user inputs and is developed on top of GPT-3's language models.
How does ChatGPT work?
Natural language processing (NLP) techniques are used by ChatGPT to comprehend user input and produce responses that resemble those of a human. It may deliver information on a wide range of topics, from weather forecasts to current events, and is created to be conversational and interesting. ChatGPT can be connected with messaging services like WhatsApp and Facebook Messenger and trained to learn a particular domain, like customer service.
What are the potential applications of ChatGPT?
Numerous possible uses for ChatGPT exist in a variety of industries, including customer service, instruction, and entertainment. It can be used to interact with customers on social networking sites, offer customer support and help, and respond to commonly asked questions. ChatGPT can be utilised in the educational setting to offer individualised learning experiences, respond to students' inquiries, and give assignment feedback. ChatGPT can be used in the entertainment sector to develop interactive experiences like chat-based games and tests.
What is the difference between ChatGPT and AutoGPT?
Although ChatGPT and AutoGPT are both AI language models created by OpenAI, their functionalities vary. ChatGPT can be implemented into messaging services and websites and is made to respond to user inputs in natural language. AutoGPT, on the other hand, is an autonomous application that can build and manage businesses on its own. It can analyse and understand data from numerous sources.
| | | |
| --- | --- | --- |
| Aspect | AutoGPT | ChatGPT |
| Type | Autonomous application | Chatbot |
| Capabilities | Develop and manage businesses autonomously, internet search and planning, autonomous coding and debugging | Provide natural language responses to user inputs, engage customers in real-time |
| Potential Applications | Optimization of business operations, startups' product and service development, research tool, customer service, education, and entertainment | Customer support and assistance, answering frequently asked questions, personalized learning experiences, creating interactive experiences such as chat-based games and quizzes |
| Advantages | Improved business performance, reduced operational costs, improved decision-making | Improved customer engagement, improved customer satisfaction, reduced operational costs |
| Customizability | Fine-tune language model to a specific task or domain | Trained on a large corpus of human language for a wide range of topics and questions |
| Decision-making | More data-driven insights | Human-like responses for engaging with customers |
Advantages of ChatGPT
ChatGPT has a number of benefits, including:
Enhanced customer engagement: ChatGPT can interact with customers in real-time and give them prompt responses to their questions.
Increased customer satisfaction: ChatGPT may respond to clients in a personalised manner, increasing their level of satisfaction with the service.
Operational costs are decreased since fewer human customer care personnel are needed because ChatGPT can handle many client inquiries at once.
Advantages of AutoGPT
AutoGPT has a number of benefits, including:
Better company performance: AutoGPT can establish and run businesses autonomously, enhancing their performance, using its sophisticated reasoning and problem-solving abilities.
Operational costs are decreased since AutoGPT can undertake a number of business functions without the aid of human workers.
Better decision-making is possible thanks to AutoGPT's ability to analyse a large quantity of data and draw conclusions from it. This enables organisations to make better decisions based on data-driven insights.
Which one should you use?
Whether you choose to use ChatGPT or AutoGPT depends on your individual requirements and the task at hand.
ChatGPT might be a better option if you're searching for a language model that can comprehend and provide responses that are human-like to a variety of themes and inquiries. With the help of a substantial corpus of human language, ChatGPT was specifically trained to understand and respond coherently and appropriately to a variety of inputs.
AutoGPT, on the other hand, might be a better option if you're seeking for a more adaptable and task-specific language model. With the help of AutoGPT, you may precisely tailor the language model to a given job or domain, enhancing its accuracy and performance in that context.
Ultimately, the choice between ChatGPT and AutoGPT will depend on your specific use case and the requirements of your project.
Conclusion
In conclusion, the GPT technology is the foundation for both AutoGPT and ChatGPT, two AI language models. While AutoGPT is an autonomous application that may be used for internet search and planning, autonomous coding and debugging, and as an autonomous Twitter bot, ChatGPT is a chatbot that can be integrated into websites. Both examples highlight the GPT technology's potential and show how it may be used to build AI language models that are capable of carrying out difficult tasks on their own. AutoGPT can enhance company performance and decision-making while ChatGPT can increase customer engagement and satisfaction. The advancement and improvement of numerous sectors by GPT-4 and its language models demonstrate the promise of AI language models.