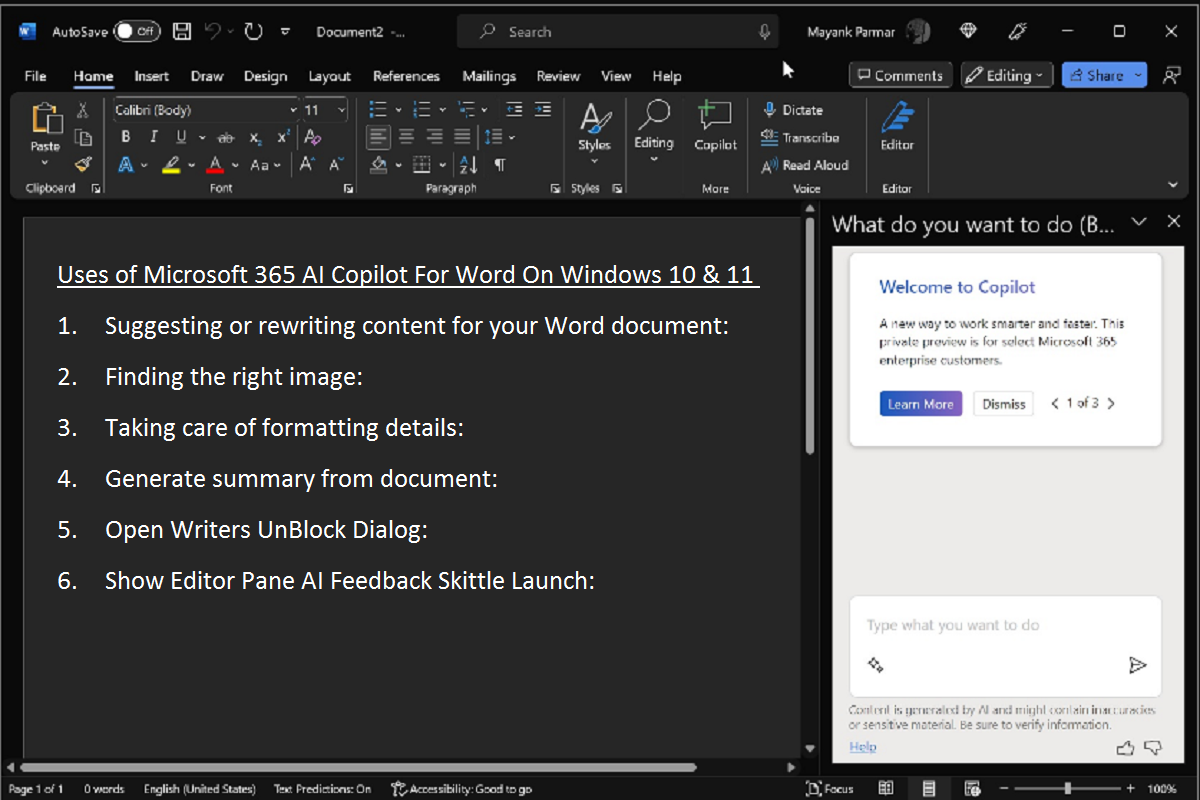 Uses of Microsoft 365 AI Copilot For Word On Windows 10 & 11
1.      Suggesting or rewriting content for your Word document:
Copilot analyses your writing and offers editing suggestions using its sophisticated AI skills. For instance, Copilot can offer ideas based on context, tone, and other considerations if you're having trouble coming up with the perfect words to convey a specific notion.
2.      Finding the right image:
You can use Copilot to pick the ideal picture to go with your document. Copilot can recommend pertinent photos that are appropriate for your topic after analysing the substance of your text.
3.      Taking care of formatting details:
Setting margins, changing spacing, and generating headers and footers are just a few formatting tasks that Copilot may assist with. This might help you save time and guarantee that your paper has a polished appearance.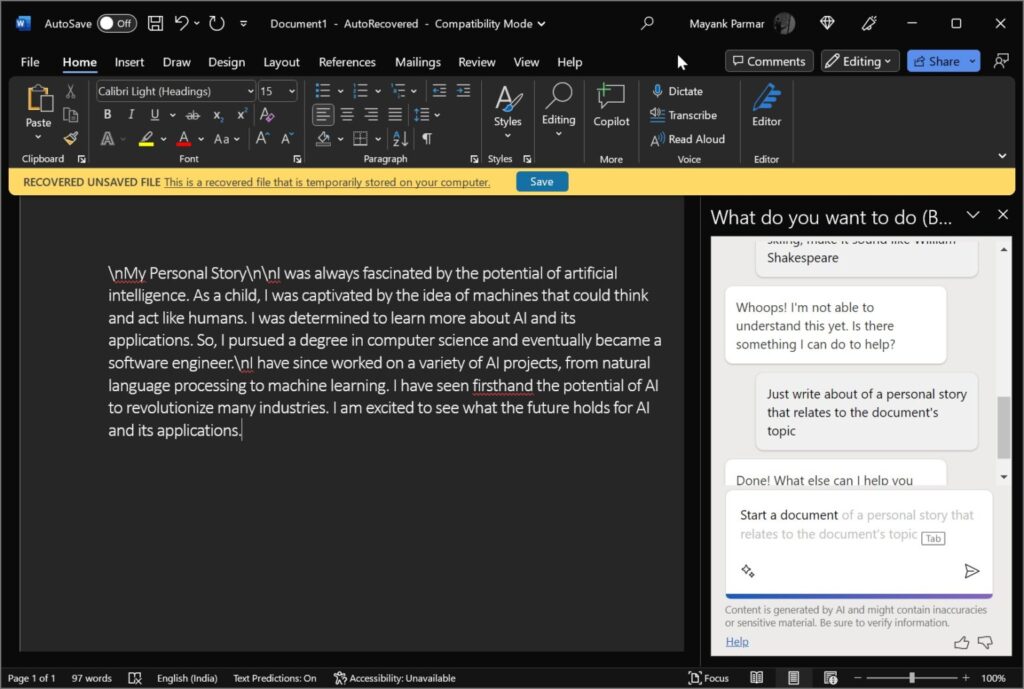 4.      Generate summary from document:
Copilot can create a summary of a lengthy document for you if you need to rapidly comprehend its essential ideas. When writing research papers or reports, this can be extremely useful.
5.      Open Writers UnBlock Dialog:
Copilot offers alternative approaches to writing that can assist you in identifying and overcoming writer's block. This function may be very helpful for people who are having problems getting motivated or starting a project.
6.      Show Editor Pane AI Feedback Skittle Launch:
With the help of this function, Copilot offers immediate feedback on your work, pointing out any potential mistakes or places in which you may make improvements. This can assist you in identifying areas for development and help you make sure your writing is effective, clear, and brief.
Our testing indicate that Copilot for Word only provides the prompts "Start a document" and "Just write about it" at this time. Despite their apparent similarity, these choices have a few subtle differences.
You can start a brand-new document from scratch using the "Start a document" prompt, and Copilot will offer recommendations and direction as you write. This can be especially beneficial for people who experience writer's block or who require assistance with idea generation.
On the other side, the "Just write about it" prompt is intended to assist you in modifying an existing work depending on your input. Copilot will review your writing and make recommendations for how to make it better or add to it.
It's crucial to keep in mind that Copilot for Word is still in the early stages of development, even though these two prompts might not now offer a vast selection of possibilities. We may anticipate seeing additional questions and functions introduced in the future as Microsoft continues to develop and improve this feature.
Overall, Microsoft 365 AI Copilot for Word on Windows 10 and 11 is a remarkably potent tool that can help you save time, write better, and be more productive in general. This function is absolutely worth investigating whether you're a professional writer, a student, or just someone trying to enhance your writing abilities.