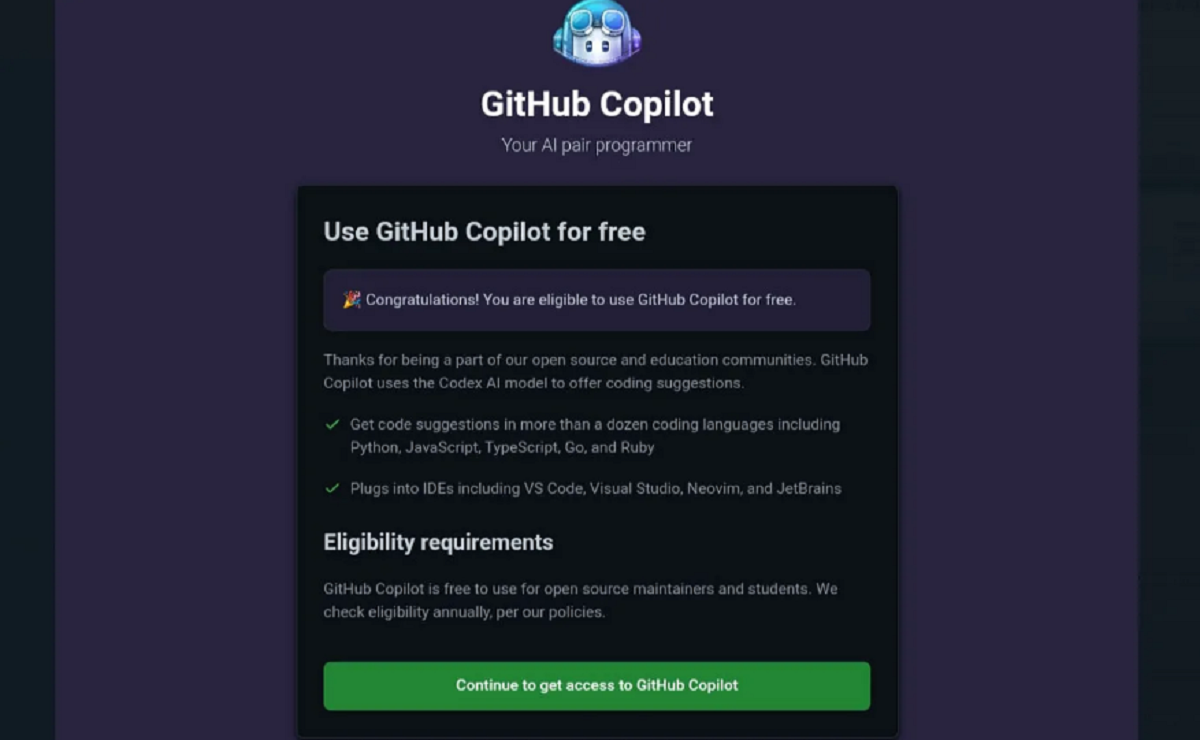 Are you trying to find a free method to use GitHub Copilot? You're fortunate! As you code, GitHub Copilot, an AI-powered tool, offers autocomplete-style suggestions. Verified students, teachers, and open source project maintainers can use it without charge, but everyone else can use a 60-day free trial. This article will explain how to use GitHub Copilot's free trial and go over the advantages of using this cutting-edge tool. So let's get going!
As you code, GitHub Copilot, an AI-powered application, offers autocomplete-style ideas from a pair programmer. It has received a lot of worldwide adoption from developers since its launch in June 2022. Here's how to sign up for a free trial of GitHub Copilot if you're interested.
First and foremost, it's crucial to remember that GitHub Copilot is free for verified professors, students, and project maintainers of well-known open source projects. If your situation fits one of these descriptions, you can use GitHub Copilot right away. If not, you can still utilise the tool for free for a 60-day trial.
Steps To Get Github Copilot Free Trial
The first step is to register for a personal GitHub account in order to begin your 60-day free trial of GitHub Copilot. Go to the GitHub Copilot settings page after creating your account and select "Enable GitHub Copilot." You can select either an annual or monthly payment schedule at this point. Click "Continue" after making your choice to access the tool and begin your free trial.
GitHub offers an even better choice for students. Students may use GitHub Copilot and other top developer tools for free through the GitHub Student Pack. Students must fulfil specific eligibility conditions, which are listed on the GitHub website, in order to apply for the programme. Once you've been authenticated, you won't have to worry about paying anything to use GitHub Copilot's features.
How long is the free trial period for GitHub Copilot?
For 60 days, GitHub Copilot is available for free. For continuing use after the free trial, a paid subscription is necessary.
How to verify as a student or teacher to use GitHub Copilot for free?
You must be a validated student or teacher on GitHub Global Campus in order to verify GitHub Copilot for free as a student or teacher. On the GitHub Education page, you can sign up for the student developer pack if you are not currently a certified instructor or student. Once you've signed up, you can add your school email address to confirm that you are a current student. You will be able to use GitHub Copilot for free as a student or teacher after verification.
Conclusion
It's simple to sign up for a free trial of GitHub Copilot. It can be a useful tool for developers trying to optimise their workflow and increase productivity thanks to its AI-powered capabilities. GitHub Copilot has something to offer everyone, whether you're a student, teacher, open source project maintainer, or you're just seeking to try out the tool.