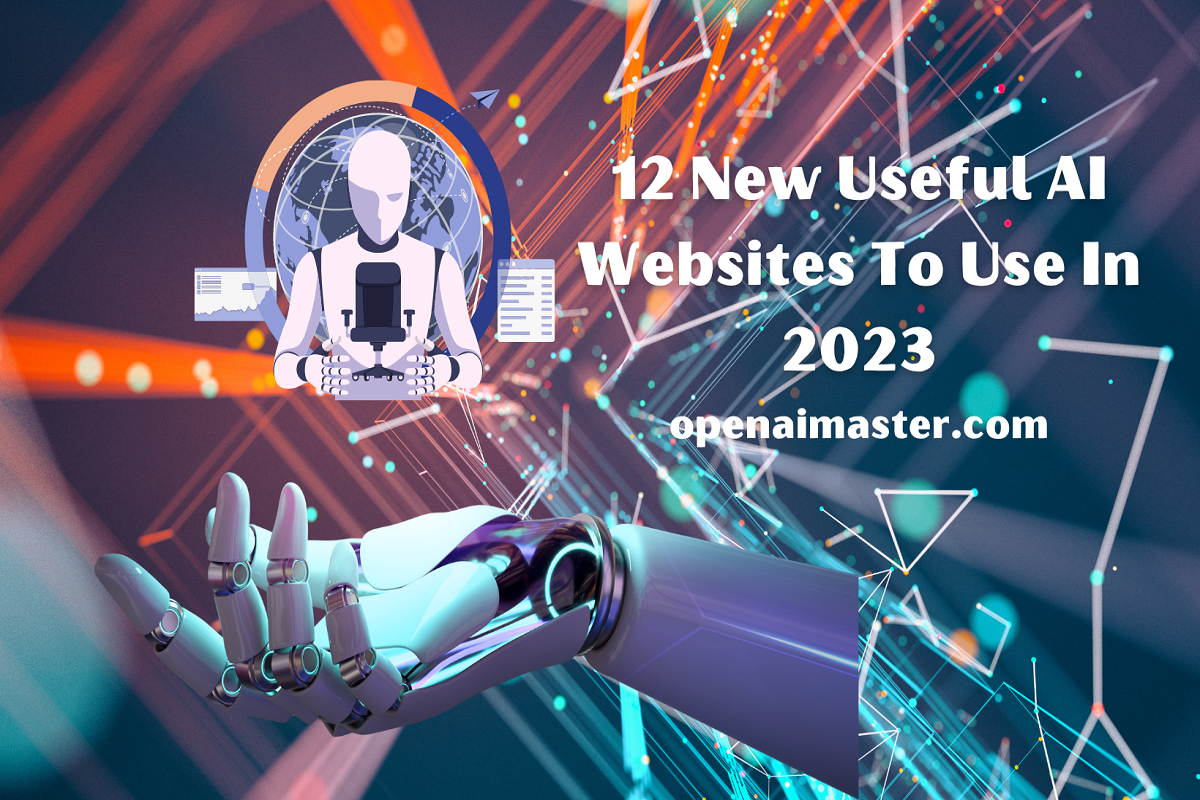 Introduction:
Artificial intelligence is a rapidly growing field that is constantly evolving with new and innovative technologies. In this article, we will explore the top new AI websites that offer a range of features and capabilities for users looking to learn more about this exciting field.
13 New Useful AI Websites
Gamma.app
Gamma.app is an effective web-based solution that enables users to quickly and easily create outstanding visual presentations and infographics. Gamma.app is the go-to platform for everyone who wishes to present their ideas in a clear and interesting way because to its user-friendly features and intuitive layout.
Its versatility is one of Gamma.app's most important advantages. To develop a presentation that properly represents their brand and style, users can select from a broad variety of templates, themes, and design components. Gamma.app provides everything you need to make your ideas stand out, whether you're preparing a business proposal, a marketing campaign, or an educational resource.
Gamma.app's ability to facilitate collaboration is another benefit. Real-time collaboration features enable numerous users to work on the same project concurrently, which makes it perfect for group presentations or team projects. Users may access their presentations from any location, at any time, and on any device thanks to its cloud-based storage.
12ft.io
Have you ever tried to read an intriguing article you found online only to be blocked by a paywall? Being at a dead end just because you're unwilling to pay for a subscription can be annoying. Thankfully, 12ft.io has the answer.
With the help of the online application 12ft.io, users may get through paywalls and read practically all paywalled articles for free. Enter the URL of the article you wish to read into 12ft.io, and it will unlock it for you without charging you anything.
Anyone who enjoys reading but doesn't want to spend money on various memberships would benefit greatly from this. You may read articles from a variety of sources using 12ft.io without having to worry about running into paywalls. It's also a fantastic tool for academic researchers and students who require access to journals and papers that are frequently restricted to paid subscribers.
Accessible from any device with an internet connection, 12ft.io is simple to use. You can use it as frequently as you'd like with no constraints or limitations because it's free.
In summary, 12ft.io is a fantastic tool for anyone who wants to read paywalled articles without having to pay for subscriptions. With its easy-to-use interface and wide range of accessible sources, 12ft.io is a must-have for anyone who loves to read and learn.
ChatShape.com
Twitter is a potent social media network that enables users to interact with one another, share knowledge, and keep up with the most recent events and fashions. However, because Twitter's algorithm is continuously evolving, it can be challenging for users to stay up to date with the most recent news.
Fortunately, ChatShape.com has a chatbot powered by AI that can teach you practically everything there is to know about the new Twitter algorithm. This chatbot analyses Twitter's most recent updates and modifications using sophisticated algorithms, giving you up-to-the-minute details on how the algorithm functions and what you can do to improve your Twitter presence.
You can ask questions regarding the new Twitter algorithm using ChatShape.com, and the chatbot will respond with thorough, precise answers. ChatShape.com can help you keep informed and current whether you're a social media marketer, a Twitter user wanting to grow your following, or just interested about how the algorithm works.
Utilising ChatShape.com is simple and practical. Simply go to the website to begin a conversation with the chatbot powered by AI. The chatbot will react to questions in natural language with replies that are lucid and succinct.
Bardeen – automate manual work
Do you dislike putting in numerous hours on manual activities that can be done automatically? Do you wish there were a simple way to create AI automation without knowing any coding? Look no farther than this incredible programme, which can automate practically any work for you in a matter of minutes!
Without writing a single line of code, you may create AI automation using this application. This application offers everything you need, whether you want to automate sending emails, tweets, and blogs or you require a website scraper. You only need to enter your choices and criteria; the programme will take care of the rest.
Additionally, this tool is quite adaptable and may be used for just about any task you can imagine. This application can help you rapidly and effectively automate processes related to social media marketing, data research, or customer care.
This application is ideal for anyone who wants to save time and optimise their workflow because of its user-friendly design and one-click automation. This tool may easily automate your manual job, no matter if you're a busy professional, freelancer, or small business owner.
Luma AI
Have you ever wished you could go back and experience your favourite memories all over again? You can accomplish it using Luma AI, all from your iPhone!
Capture, NeRF, and AR are three potent elements that are combined to create Luma AI, a cutting-edge technology. With the use of these capabilities, you can teleport back into your memories and experience them as if you were there again.
NeRF employs AI techniques to transform the 3D photos you take with Capture into realistic, high-quality models of your environment. Then, using augmented reality (AR), these models come to life, allowing you to interact with them as if they were actually present by superimposing them on your actual environment.
You may recreate your favourite memories with Luma AI, whether they are of a childhood vacation, a memorable time spent with friends or family, or simply a stunning scenery. You can do it whenever and wherever you want because everything is done on your iPhone.
Thanks to the power of modern technology, Luma AI is revolutionising the way we experience our memories. Luma AI is the ideal answer if you're seeking for a means to recreate your favourite memories and forge fresh ones that you may explore repeatedly.
Numerous.ai
Are you sick of wasting hours on boring busywork in Google Sheets and Excel? Do you wish there were a simpler approach to complete chores like formula generation, text writing and editing, and data cleaning? Numerous.ai is the AI assistant you need to get these things done quickly and easily.
Powerful AI helper Numerous.ai can do a variety of tasks in Google Sheets and Excel. This AI assistant can aid you with a variety of tasks, including producing complex calculations, batch writing and rewriting of text, data reformatting and cleaning, and item classification.
You may optimise your process and save hours of time with Numerous.ai, letting you to concentrate on more crucial activities. This AI helper can help you work more effectively rather than more slowly, regardless of whether you're a business owner, a data analyst, or just someone who frequently needs to work with spreadsheets.
Numerous.ai is also quite simple to utilise. Enter your needs and preferences, and the AI assistant will take care of the rest. This application is ideal for anyone who wants to save time and streamline their workflow because of its strong algorithms and user-friendly design.
Stylized.ai
Have you ever wished you had the knowledge or experience necessary to draw items with studio-quality detail? Then Stylized.ai tool is what you need!
Anyone can effortlessly sketch objects that mysteriously transform into studio-quality output using Stylized.ai. This tool is ideal for anyone who wants to produce items with a professional appearance without having any specialised knowledge or expertise, regardless of whether they run a business, are a designer, or are a maker.
What you draw is what you receive is a straightforward idea. Simply draw the desired item, and Stylized.ai will automatically create a stunning, expert-looking image or graphic from it. This tool may be used to design anything, including logos, icons, and illustrations.
Stylized.ai is also quite simple to utilise. You can quickly build objects with a professional appearance because to its simple interface and strong AI algorithms. This tool is ideal for anyone who wants to produce high-quality graphics fast and effortlessly, regardless of whether they are a beginner or an expert designer.
You might believe that you need to know how to code or hire a developer if you need to extract data from a website or keep an eye out for updates. However, without any technical knowledge, you can scrape or monitor any page using Browse.ai in just 2 minutes!
Browse.ai
You may extract all kinds of information from websites with Browse.ai, including company listings, job posts, YouTube videos, hotel rates, and much more. This application is ideal for anyone who wants to gather data from the web, whether they are marketers, researchers, or just regular people.
Additionally, Browse.ai is really simple to use. Enter the website's URL and the data you wish to monitor or collect. The application will take care of the rest and give the data to you in a tidy, well-organized manner that is ready for use.
With Browse.ai, you can save hours of time and automate tedious tasks, allowing you to focus on more important work. Whether you need to monitor competitors' websites, collect data for market research, or keep track of job postings, this tool can help you do it quickly and efficiently.
videohighlight.com
Do you ever discover that you spend more time pausing, going back, and transcribing video information than you do viewing and analysing it? If so, you are not by yourself. However, you can say good-bye to time-consuming video note-taking and welcome to more effective and productive learning when you use Video Highlight.
With the help of the effective tool Video Highlight, you can quickly summarise, browse, highlight, and screenshot YouTube videos. This tool is ideal for anyone who wishes to learn more effectively, whether they are students, researchers, or just general learners.
Without having to view a video in real time, you may rapidly skim through it and highlight the most crucial details using Video Highlight. Additionally, you can use highlighters and screenshots to capture important details for later use. To swiftly review the content at a glance, the programme even lets you make summaries of the movie.
Additionally, using Video Highlight is really simple. You only need to provide the YouTube video URL; the tool will handle the rest. You can alter your settings to concentrate on particular subjects, change the video's speed, and more.
Thumbly.ai
It can be difficult to make a captivating YouTube thumbnail, especially if you're not a designer. However, you can quickly create a thumbnail using Thumbly that is guaranteed to attract users' attention and encourage more clicks.
Before choosing whether to click on your video or not, consumers first see your thumbnail. Making it distinctive is essential, therefore. With Thumbly, you can make amazing thumbnails without any design experience. The entire process will be completed by the tool in a matter of minutes.
Thumbly creates thumbnails that are click-optimized using AI. Select a template from a selection, add your own text and graphics, and change the colours to reflect your brand. To ensure that your thumbnail appears fantastic on desktop, tablet, and mobile, the tool even lets you see how it will appear on various platforms.
Thumbly can help you obtain more views and engagement on your YouTube videos in addition to saving you time and effort. People are more inclined to click on your video and watch it all the way through if the thumbnail seems professional.
Nvidia Canvas
With just a few colour blobs, Nvidia Canvas is a potent tool for digital artists and designers that enables them to produce breathtaking photorealistic scenes. With this cutting-edge technology, you can quickly and effortlessly turn your concepts into stunning pieces of art.
The procedure is straightforward: simply paint a few blobs of colour onto the canvas to get things started, then let Nvidia Canvas do its magic. Based on your initial brushstrokes, the tool uses AI to develop a photorealistic scene that takes into account lighting, texturing, and other elements to produce a realistic image.
Nvidia Canvas is a game-changer, whether you're an established artist or just getting started. It makes it possible for you to swiftly and easily create beautiful pictures that would typically take hours or even days to create by hand. The finest thing is that using it doesn't require highly developed technical knowledge.
There are countless possibilities with Nvidia Canvas. Everything from landscapes and cityscapes to portraits and abstract art can be produced. You can concentrate more on your ideas and spend less time on technical details because the tool is so simple to use.
Wavtool.com
An intriguing new music tool called Wavtool.com is sure to be popular with both artists and creators. When it comes to music and editing, it's like having your very own ChatGPT-4, allowing you to swiftly and effortlessly produce incredible tunes with only a few clicks.
Wavtool.com contains everything you need to advance your music, regardless of your degree of experience as a musician or where you are in the process of learning. You can swiftly create intricate melodies, chord progressions, and even full arrangements using its strong AI algorithms and user-friendly interface.
That's not all, though. You can modify your tracks on Wavtool.com using a variety of tools, allowing you to fine-tune them until they are perfect. You have total control over all elements of your music, including EQ, compression, effects, and filtering.
The capacity of Wavtool.com to analyse existing music and create new songs based on that analysis is one of its most outstanding capabilities. Just submit your favourite music, and the generator will analyse it to create a new track with a similar structure and feel.
Rationale.jina.ai
A sophisticated decision-making tool called Rationale.jina.ai was created to aid you in making smarter decisions quickly. Rationale may provide you with the knowledge you need to make an informed decision, whether you're attempting to decide whether to take a new job, invest in a specific stock, or make any other significant decision.
Rationale instantly analyses your selections and provides you with a list of advantages and disadvantages for each one using cutting-edge AI algorithms and natural language processing. This makes it simple to analyse the advantages and disadvantages of each option and come to a reasoned decision.
The simplicity of Rationale is one of its best features. Simply enter your preferences and let the tool take care of the rest; you don't need to be a tech expert or have any particular abilities to utilise it. You can access it from anywhere, at any time, because it's online.
Therefore, Rationale is the ideal tool to assist you in making the best decision, whether you're faced with a difficult issue or simply want to explore your possibilities. Today, give it a try and discover how it might speed up and improve your decision-making.