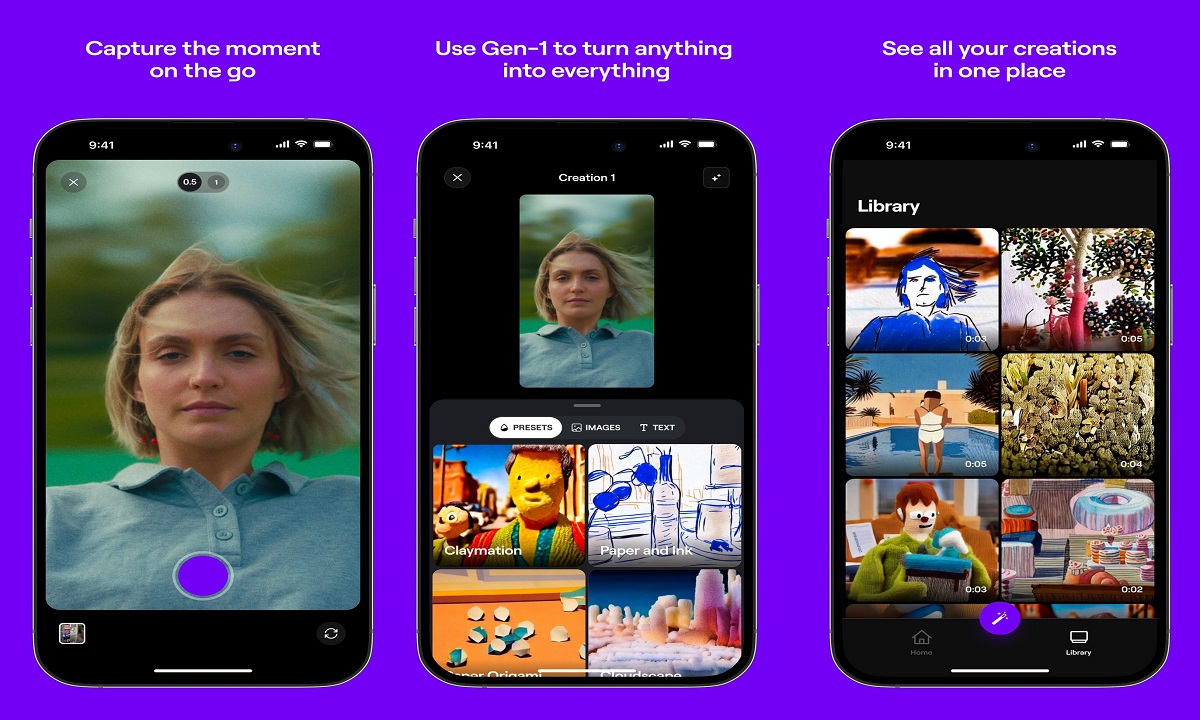 Runway, an AI startup that contributed to the development of the AI image generator Stable Diffusion, has launched its first mobile app, Gen-1. The app allows users to access the company's video-to-video generative AI model. Gen-1 is currently only available for iOS devices. With this app, users can record a video on their phones and generate an AI-generated video within minutes. Users can also transform existing videos in their library by using text prompts, images, or style presets. Runway offers a wide range of presets, allowing users to transform their videos to look like claymation, charcoal sketch, watercolor art, paper origami, and more. Additionally, users can upload an image or enter text into the app to generate a unique AI video.
How Gen-1 Works
Gen-1 is an artificial intelligence (AI) video-to-video generative model developed by Runway. You can use Gen-1 through the Runway website or iOS app. To use the iOS app, download the RunwayML app on your iPhone and create or log in to your Runway account. Then, you can either record new footage or upload existing videos from your iPhone and apply Gen-1 transformations within the app. While there are paid models for Runway's AI tools, you can try Gen-1 for free with three available projects according to the company's website.
Alternatively, you can use the Gen-1 model on the Runway website. After logging into your account, go to the AI Magic Tools section on your homepage and select "Gen-1: Video to Video". From there, you can drag and drop or upload video files to edit them using the Gen-1 model.
Using Runway's List of Presets
When using the Gen-1 app, you have the option to choose from Runway's list of presets, such as "Cloudscape," which features a beautiful video of a cloudy sky. Additionally, you can transform your video to look like a claymation, charcoal sketch, watercolor art, paper origami, or other styles. You can also upload an image or enter an idea into the text box.
After making your selection, the app will generate four previews for you to choose from. Once you have selected your preferred preview, the app will take a few minutes to produce the final product. During our testing, we found that it took approximately 60 seconds or longer, and in some cases up to two minutes, to generate the final video.
Pricing
For Runway's AI tools, there are paid models, as was already mentioned. On the other hand, Gen-1 is free to test. Three projects can be made on the Free Plan. However, you will need to pay if you want to create more projects. There are two paid plans: Hobby and Professional, claims the Runway website. While the Professional plan is $49/month or $490/year, the Hobby plan costs $14/month or $140/year.
Conclusion
Runway's Gen-1 mobile app is an exciting development for video creation enthusiasts. With its AI technology, it can transform any video into a beautiful and artistic masterpiece. The app's presets and text prompts make it easy for users to create amazing videos in just a few minutes.