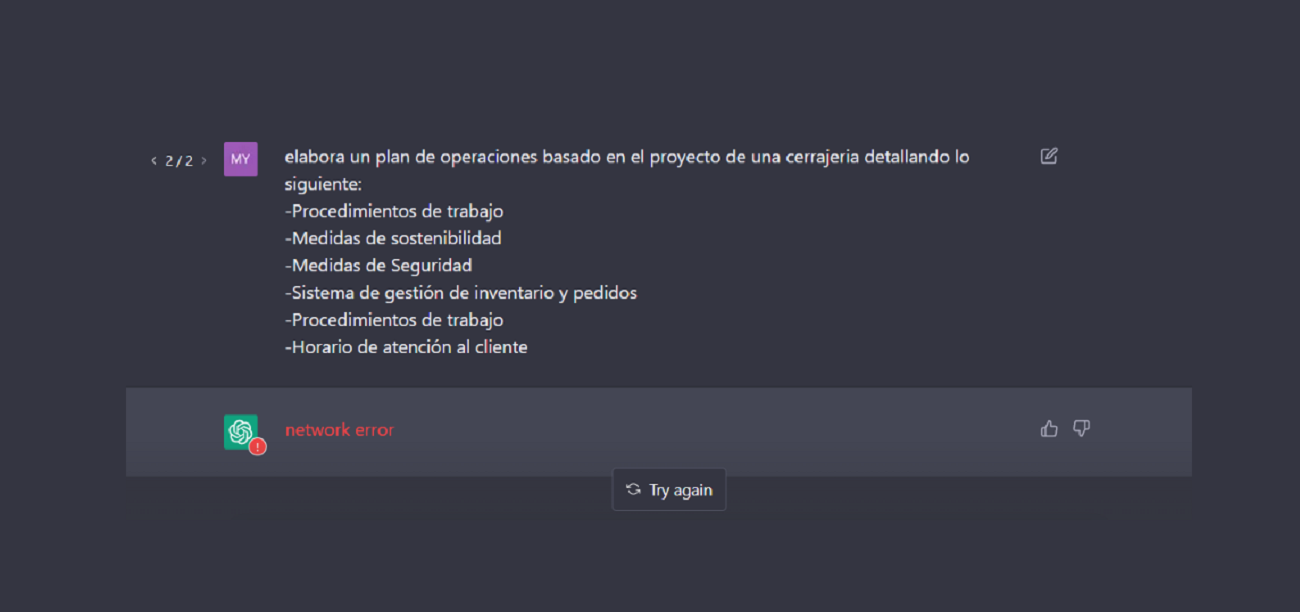 I wanted assistance conducting research for an assignment I had to complete for school. I chose to try using ChatGPT to try to come up with some ideas. I hit enter after typing my request, "Can you recommend some sources for my project?" While I waited for an answer, a ChatGPT network issue appeared. I gave it another shot, but the outcome was the same. I was annoyed since I wanted assistance and the chatbot wasn't responding.
There are solutions to the ChatGPT network error if you find yourself in a similar circumstance as I did. In the sections that follow, we'll look at some potential causes of the network error and offer you fixes to make things right.
Causes of a ChatGPT network error
You might experience network issues when using ChatGPT, which can happen for a number of reasons. These could be problems with your internet connection, issues with the backend, blocked IP addresses, high traffic, or even overly long responses that go above the timeout limit of 60 seconds.
It's crucial to take specific precautions in order to avoid such network failures. You might try restarting ChatGPT, avoiding lengthy responses that might result in timeouts, logging out and back in, testing your internet access, or waiting till the platform is less busy. You may guarantee a seamless and easy experience with ChatGPT by following these steps.
Solutions to fix the ChatGPT network error:
1.      Keep queries short and concise
If they make a lengthy request that goes over the 60-second timeout limit, users on ChatGPT are more likely to get a network issue. Users should aim to make their queries succinct and to the point to prevent this problem. Users won't experience the network fault and the chatbot will be able to respond within the allotted period.
2.      Use a VPN
Another solution to fix the network error on ChatGPT is to use a virtual private network (VPN). Heavy traffic in your region might be causing the network error, and a VPN can help bypass any IP address blockages and improve your internet connection's speed and stability.
3.      Clear browser data
Applications like ChatGPT may experience troubles as cached data builds up, however deleting it might enhance the performance of the programme. Users can delete their browser history by navigating to their browser settings and choosing "clear browsing data." This can assist in resolving the network issue by deleting all stored data, including cache, cookies, and browsing history.
4.      Reload ChatGPT or sign out and sign back in
Users of ChatGPT can try refreshing the page or logging out and back in if they experience a network issue. This can assist in restarting the application and resolving any transient problems that might be the root of the network error.
5.      Check internet connection
Users who experience problems with their internet connection can check it and contact their service provider. The network error may also result from a slow or inconsistent internet connection, and contacting the service provider can assist resolve the problem.
6.      Wait and try again later
Users can take a break from utilising ChatGPT and try again later when there is less demand on the servers if all else fails. This can be especially helpful when there is a network fault because there may be too much server traffic during peak hours.
Conclusion
Network errors can be frustrating when using ChatGPT, but by following the above troubleshooting steps, you can often resolve the issue quickly and get back to generating natural language responses. If you continue to experience network errors, don't hesitate to contact ChatGPT support for assistance.