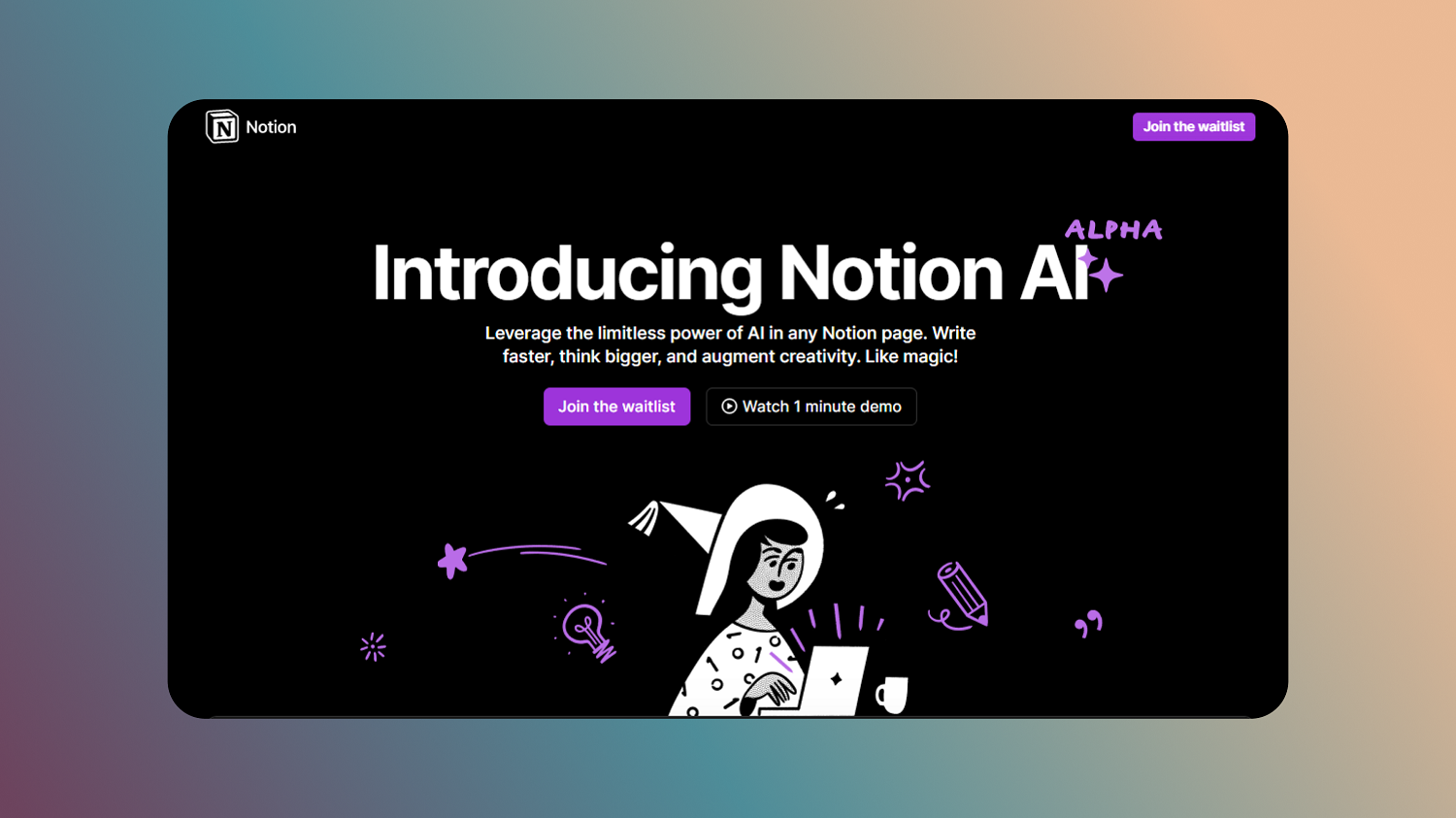 Notion AI is a collection of artificial intelligence technologies that can aid users in creating notes and papers that are more effective and effective.
How To Use Notion AI
Depending on their current needs, users can access Notion AI in one of three ways. Choose Ask AI while highlighting text in existing material to enhance it. Then select a choice from the list or create a personalised question. Notion's AI can synthesise essential ideas from written content into a high-level summary. This is helpful for quickly summarising meeting notes, product specifications, or research suggestions.
Additionally, Notion's AI can construct whole email and blog post outlines, produce action items from meeting notes, edit writing to correct grammar and punctuation or change the tone, help with research and problem-solving, and do a lot more.
All users can presently access Notion's AI. Restart the Notion app if you don't see it there. Go to Settings and Members, select the Plans section (labelled Upgrade if you're on the free plan), and turn on the Notion AI add-on. This will allow Notion AI within your workspace.
Notion AI Features
With the aid of Notion AI, users can write, brainstorm, edit, summarise, and complete other tasks. From current information, it can extract essential ideas for a high-level overview, create task lists based on selected text, and even perform translations. Additionally, Notion AI features a feature that enables users to ask for clarification if they are unclear about something.
Notion AI Pricing
Notion AI costs $10 per member, each month, as an add-on to Notion plans, including Free Plans. Additionally, annual billing Business and Enterprise customers are eligible for a 20% discount on the add-on. All users will receive 20 free AI responses up to April 5th, 2023, after which they will need to pay the monthly price or sign up for an annual plan to continue utilising Notion AI.
Is Notion AI free for students?
Yes, Notion AI is open to all users and is free. With more participants, you get more complimentary AI responses, which are distributed over the entire workspace. Notion AI costs $10 per member, each month, as an add-on to Notion plans, including Free Plans. Customers who use annual billing for Plus, Business, and Enterprise receive a 20% discount. Notion AI can be added to your workspace plan for $8 per member/month if you have a Free Plan subscription or a Plus, Business, or Enterprise subscription with annual billing.
Users have until April 5th, 2023, to test out Notion's AI tool for free. You have 20 responses per person if you accept this offer. After using your commands, you must sign up for a premium plan, nevertheless. You are no longer need to join the waitlist that Notion initially established when it first started testing the programme. You can use the tool as soon as you create a Notion account.
It's not apparent if students have free access to Notion AI. On the student plan, one Reddit user got an email suggesting they would need to subscribe to a plan, but it wasn't clear which one. The built-in AI elements of Notion can now be used by anyone with an account, regardless of plan, according to a February 22nd 2023 story in The Verge.
How To To embed an Airtable inside a Notion
There are two ways to incorporate an Airtable into a Notion document. Use the 'Embed' block that is already included in Notion as the initial approach. To do this, open your Airtable base's sharing options, then copy the share URL. After that, open your Notion document, paste the Airtable share link onto the page, and select "Create embed." You can also enter the command "/embed" inside your Notion document. The widget from Apption is the second approach. To start, go to the website and make an Airtable. Next, choose "Base" from the top-right menu's rounded "Share" button.Simply select "Create a shared link." "Private read-only link," it says. You may customise your Embed by clicking the ">" icon on your share link. Insert the Embed code into your Notion Embed block by copying and pasting it.
Because AT interfaces are still in beta, it is currently not possible to incorporate Airtable interfaces (dashboards) into Notion. However, users may organise their workflows effectively while facilitating cooperation with other team members or clients by integrating Airtable with Notion. You may use Zapier to automatically communicate data between Airtable and Notion without writing any code.
Notion AI vs ChatGPT
Task automation and simplification are goals of both ChatGPT and Notion AI, two AI-powered applications. ChatGPT is better suited for jobs like content generation and customer support that demand a wide variety of expertise and natural language processing. Businesses who need to cater to a large number of consumers with personalised responses will find it especially helpful. However, within the Notion platform, operations like automating the development of pages, tables, and databases are better suited for Notion AI. Notion AI provides users with ideas, completions, and formatting options based on their input for a more seamless experience within the Notion platform.
The AI developed by Notion can create original content, however it is positioned more as a "thought partner". Additionally, it has the ability to translate, create a task list based on selected content, and summarise articles or notes. ChatGPT offers a flexible tool for producing text and finishing tasks. Users must be very explicit about what they want it to do, though.