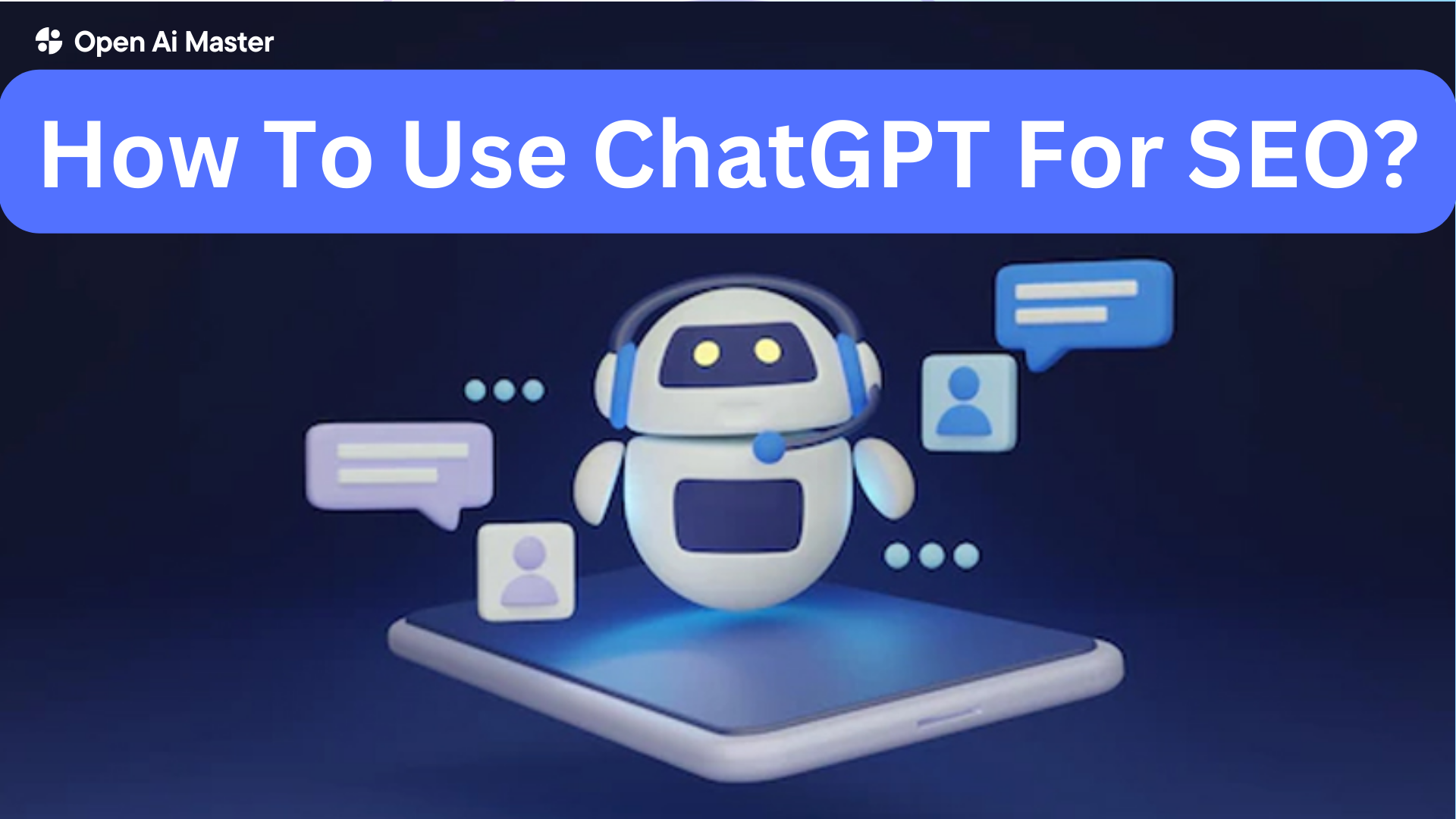 In today's digital world, businesses of all sizes need to have a strong online presence. To achieve this, search engine optimisation (SEO) has grown to be a critical element of any digital marketing strategy. However, creating high-caliber content that ranks well in search results can be challenging. It's at this point when ChatGPT and other artificial intelligence (AI) methods are useful. In this article, we'll go over using ChatGPT for SEO to strengthen your content strategy and raise the search engine rating of your website.
How to Use ChatGPT for SEO?
The three main steps of using ChatGPT for SEO are keyword research, content generation, and content optimisation.
Using ChatGPT for Keyword Research
The essential element of every SEO plan must be keyword research. It helps you decide which keywords are most advantageous and relevant for your sector and target audience. ChatGPT can help you with keyword research by generating long-tail keywords and subject recommendations based on your seed term.
Follow these steps to conduct keyword research using ChatGPT:
Pick a seed keyword associated with your industry or subject.

As a prompt, type the seed keyword into ChatGPT.

Based on your seed keyword, ChatGPT will produce a list of long-tail keywords and subject suggestions.

Utilise the generated keywords and themes to improve the content on your website and better target your audience.
Using ChatGPT for Content Creation
The creation of content is a crucial SEO component. High-quality, interesting, and instructional material will raise your website's search engine results and attract more visitors. ChatGPT can help you generate ideas for high-quality content based on a given subject or even produce complete articles or blog posts.
Follow these steps to use ChatGPT to create content:
Pick a subject that is pertinent to your business or industry.
In ChatGPT, enter the subject as a prompt.
As you create your content concept, ChatGPT will generate a list of pertinent subjects and subtopics for you.
Create your content outline using the subjects and subtopics that were produced.
To add sentences or paragraphs to your text, use ChatGPT.
Using ChatGPT for Content Optimization
material optimisation entails adding pertinent keywords, meta descriptions, and other SEO tactics to make your material more search engine friendly. By creating meta descriptions, titles, and even recommendations for internal and external links, ChatGPT may assist you in optimising your content.
Using AIPRM for SEO
Effective SEO techniques are crucial for increasing website traffic and visibility, as ChatGPT is aware of. AIPRM (Artificial Intelligence Powered Reputation Management) is one such technique that can help your website's search engine results greatly. In this article, we'll go through how to use AIPRM to your advantage so that your website performs better on Google's search engine and ranks higher than competing websites.
What is AIPRM ChatGPT?
AIPRM is a potent tool that employs state-of-the-art artificial intelligence algorithms to manage a website's online reputation. It helps identify negative remarks and evaluations that can damage a website's online reputation and takes action to mitigate the damage. AIPRM aids in monitoring and analysing social media and other online platforms to identify potential threats to the reputation of websites.
How to Use AIPRM ChatGPT for SEO
AIPRM can be effectively used for SEO by monitoring, assessing, and taking actions to enhance a website's online reputation. The following techniques can be used to improve a website's SEO performance with AIPRM:
Reputation Management
AIPRM contributes to managing a website's online reputation by identifying negative comments and reviews and taking action to mitigate their effects. By carefully managing the website's reputation, search engine rankings and traffic can both be improved.
Content Creation
AIPRM can be used to identify content gaps on a website and suggest concepts for fresh content. By creating high-quality content that is relevant to and beneficial to the website's intended audience, you can raise the website's search engine rankings and attract more visitors.
Keyword Optimization
AIPRM can be used to find the most pertinent keywords and phrases for a website's target market. It is feasible to improve the website's search engine results and boost website traffic by incorporating certain keywords and phrases into the content optimisation.
Social Media Management
AIPRM can be used to monitor and analyse social media activity and identify any possible issues with a website's reputation. Actively managing a website's social media presence can improve both the website's traffic and search engine results.
Link Building
Finding trustworthy websites and bloggers who are relevant to a website's niche can be made easier with the help of AIPRM. Making links with these websites and influencers can improve the website's search engine positioning and increase its audience.
Conclusion
AIPRM is a powerful tool that can greatly enhance the SEO performance of your website. By effectively utilising AIPRM, website owners can manage their online reputation, create excellent content, optimise it for relevant keywords, manage their social media presence, and establish connections with other excellent websites and influencers. By implementing these techniques, website owners can improve their website's search engine rankings and outrank competitors' webpages in Google search results.