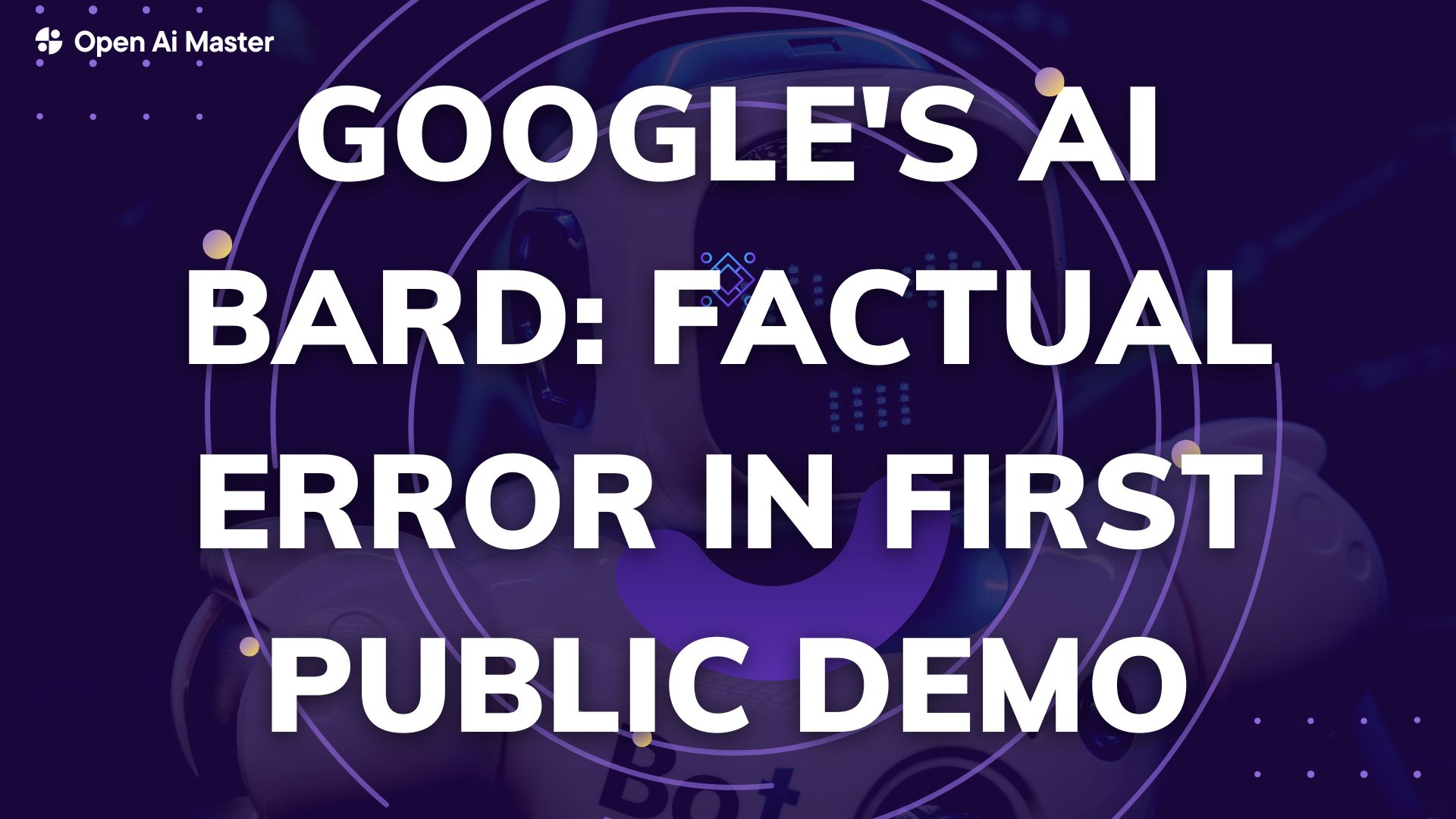 The rise and fall of Google's AI chatbots: Google's Bard demo Gone Wrong!
Chatbots have evolved into a quick and simple method of customer service due to their ability to process a large volume of enquiries more quickly than people. The contest began following the introduction of ChatGPT. Naturally, the major companies like Google and Bing stepped up their game and introduced their own AI systems. Let's discuss Google! Google developed their own AI chatbot called "Bard." It recently made its public premiere at a demonstration intended to show off its possibilities. Unfortunately, the chatbot's objectivity was called into question by a factual error it made during the demonstration. In this piece, we'll go over in detail the results of Google's AI Bard's factual inaccuracy in its first-ever public demo.
The Public Demonstration of Bard: What went wrong?
Bard was used as an example to highlight its aptitude for providing users with helpful information and for responding to inquiries. This was Google's first significant demo and a chance to showcase the just released Bard. Sadly, though, things did not turn out as expected. Because it was trained on a huge dataset, the chatbot could answer to a wide range of inquiries. However, a critical error the chatbot made cost the demonstration. When asked a specific question, Bard gave a wrong response, which was quickly called out by the audience. This error raised concerns about the accuracy of the data that AI chatbots provide and the dependability of the system.
Google's AI Bard: Factual Error in First Public Demo What was it?
What fresh information has the James Webb Space Telescope revealed that I can impart to my 9-year-old? Google posted a GIF of Bard responding. One of Bard's three bullet points stated that the telescope "took the very first photos of a planet outside of our own solar system." Astronomers clarified this is untrue on Twitter. According to the NASA website, the first image of an extrasolar planet was actually taken in 2004.
"This highlights the importance of a rigorous testing process, something that we're kicking off this week with our Trusted Tester program. We'll combine external feedback with our own internal testing to make sure Bard's responses meet a high bar for quality, safety and groundedness in real-world information."
– Jane Park (A spokesperson for Google)
Bard's Factual Mistake: Cost Google $100 Billion
People are now debating if Bard is legitimate and whether it can be relied upon to deliver accurate information. Google has lost $100 billion as a result of this factual inaccuracy.
On Wednesday, Alphabet's stock dropped 7.7% as concerns about Bard, a ChatGPT rival that Alphabet unveiled on February 6, were voiced. Alphabet controls Google. The market slide continued on Thursday, falling as much as 5.1%, and is on track to suffer the worst two days of losses since March 2020. Due to this error, a total of $170 billion in market value was lost.
How important investor success has become in the AI arms race is shown by the fact that the market fall was significantly worse than the 2.8% decline that occurred the day after Alphabet's results missed forecasts.
"For a stock like Google to get knocked down this much, it just shows you that people aren't even looking at the fundamentals."
-Matt Maley, chief market strategist at Miller Tabak + Co
The Limitations and Potential of Bard
Bard is a human error-prone AI chatbot that has been trained on a sizable dataset. However, Bard's error serves as a warning about the limitations of artificial intelligence technology and the value of fact-checking and verification. AI chatbots are only as dependable as the training data, therefore if that data is inaccurate or out-of-date, the chatbot will also give inaccurate answers.
On the other hand, AI chatbots can provide prompt and convenient customer assistance while handling a large volume of inquiries more quickly than a human. They can also be set up to respond to specific queries and provide consumers with tailored information. Businesses can reduce operating costs and improve customer satisfaction by using AI chatbots.
Conclusion
The Bard demonstration was an important milestone for Google in the field of AI. Despite how unpleasant the chatbot's factual error was, it provides businesses with an opportunity to develop and upgrade their AI technology. The accuracy of AI chatbots depends on the data they are trained on, despite the fact that they have the ability to provide effective customer support. Businesses should try to ensure the accuracy and utility of their training data in order to prevent errors like the one Bard made. This incident is a cautionary tale that artificial intelligence technology is still in its infancy and has flaws that need to be rectified.