"Discover the Best ChatGPT Apps for iOS: Elevate Your Chatting Experience"
The way we speak and engage with one another has been revolutionised by ChatGPT, an AI-powered chatbot built on the GPT-3 API. But not everyone will be familiar with ChatGPT, or they might be looking for an app with comparable functions. You've come to the right place if you're an iOS user looking for the top ChatGPT apps for iOS.
Given the variety of iOS apps available, choosing the best ChatGPT app might be difficult. To help you make an informed decision, we've compiled a list of the best chat applications for iOS, each with unique features and benefits. Whether you're looking for group chat, multimedia messaging, or just text-based conversing, these top-rated chat applications have you covered. Find the iOS ChatGPT app that best suits your needs for communication while streamlining and enhancing discussion.
What is ChatGPT?
Imagine having an AI language model that is tailored to you and produces text the same way a human would. Exactly that is what ChatGPT, a state-of-the-art AI system created by OpenAI, does.
ChatGPT can comprehend and produce a wide range of topics, from science and history to sports and pop culture, because it was trained on such a big quantity of diverse texts. ChatGPT can produce jokes, stories, poetry, and answers using its robust language generating features.
Best ChatGPT Apps for iOS
The age-old problem of selecting the ideal swimwear can be compared to selecting the ChatGPT software that best suits your needs. In the end, it comes down to individual preferences. Each platform is distinct and offers a range of advantages and disadvantages. The best ChatGPT apps are listed below for your consideration in order to make an educated decision: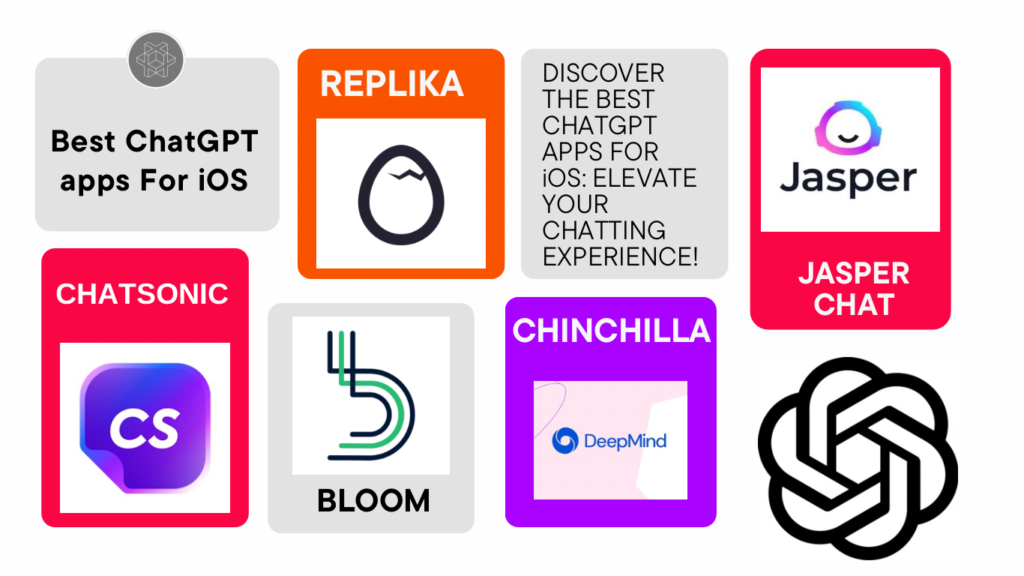 Replika
Replika is a highly personalised chatbot that learns from your actions and demeanour to imitate human conversational behaviour. It's a fantastic choice for those looking for more specialised conversation experiences and emotional support. Replika is an excellent alternative to Chat GPT. If you're feeling sad and alone, it's for you. Any topic can be discussed using it, including relationships, life, and other things you might chat about with family or friends. Replika is used by more than 10 million individuals. It is substantially more sophisticated than previous versions. Replika is able to pick up on visual clues and use them to further a dialogue.
ChatSonic
ChatSonic is a duplicate of ChatGPT, as suggested by the name. ChatSonic has the same abilities as ChatGPT, including the ability to create original articles, blog posts, stand-up routines, programmes, ad text, and many more. Real-time data is used by ChatSonic, which also provides some more capabilities that ChatGPT does not. ChatSonic offers a wide range of pricing options, starting at $12.67 per month and going up to $666 per month, depending on your requirements and financial situation. Additionally free is the ChatSonic trial. Try ChatSonic to help you decide which package is best for you.
ChinChilla
Choosing ChinChilla vs Chat GPT is a great idea. It has surpassed ChatGPT on the mathematical MMLU dataset and is built on transformer models, similar to those used in GPT-3 and BERT. Chinchilla is a great option for anyone who need to construct more complex AI writing, art, or search engine activities or who wish to use a language model for reasoning. The chinchilla is also known as the GPT-3 Killer.
Jasper Chat
Jasper Chat, originally known as Jarvis, is another popular Chat GPT alternative on the market. When they require high-quality content rapidly, many professionals turn to it as one of the best AI writing tools. In particular, business applications like marketing and sales are the focus of this recently built Jasper chat. This is a great alternative to Chat GPT if you want to use an AI chatbot for your business. Only the boss mode and the business strategy are available in Jasper Chat. This plan has a monthly fee of $49. You can't talk to Jasper if you have a starter pack of him.
Bloom
Bloom is one of the best Chat GPT substitutes. It is open-source AI software that has been developed by more than a thousand experts in the area. In contrast to GPT-3, Bloom trains on 176 billion parameters using 384 graphics devices with a combined memory of more than 80GB. If you wish to write an outstanding post, Bloom is your best alternative as compared to Chat GPT.
What are the benefits of using ChatGPT?
Using ChatGPT has several benefits such as:
Efficiency: With ChatGPT, text-based tasks may be automated, freeing up time and resources for other responsibilities.
Accuracy: The model can generate text that is both coherent and similar to human language because it was trained on a huge text sample.
ChatGPT can be tailored for certain applications, increasing its effectiveness in those use cases.
Cost-effective: Compared to engaging human authors or independent contractors, using ChatGPT may be a more economical solution for text generation tasks.
Scalability: ChatGPT can handle a large number of queries, making it scalable for businesses with a high need for text generation.
FAQs:
Does ChatGPT have an app on iOS?
On iOS devices, there aren't any official ChatGPT apps at the moment. However, ChatGPT is still accessible and usable via the OpenAI website. Visit the website to interact with ChatGPT and explore the cutting-edge technology that powers GPT-3.
However, there are a lot of other useful applications that are similar. On your iOS device, you can find a lot of ChatGPT alternatives. If you're lucky, you can even discover a tool that is more sophisticated than ChatGPT; you never know.
Can you use ChatGPT apps for free?
Of course, that relies entirely on the application you are using. While some ChatGPT apps are free, some may charge a fee or require a subscription. Even in-app purchases are available to give you access to more sophisticated capabilities.
What is ChatGPT used for?
Text that is written in a conversational way is produced by ChatGPT. This implies that it can be applied to the development of chatbots that can communicate with users and offer knowledge. It can also be employed to generate text for projects like authoring essays, poems, or lengthy text summaries. By automating text-based chores with ChatGPT, companies and individuals can increase productivity and free up time for other pursuits. For usage in a variety of circumstances where text production is necessary, ChatGPT aims to produce text that is coherent and resembles human language.
How does ChatGPT work?
Using deep learning methods, the ChatGPT machine learning model generates text based on input. Because it was trained on a substantial amount of internet-based content, it can interpret and write text that mimics human language. When you send a message to ChatGPT, it analyses the data and replies based on what it has learnt. The model uses a sort of neural network called a Transformer to generate text, which allows it to handle long-range dependencies and understand the context of the interaction.
Conclusion
These are some of the best ChatGPT apps for iOS users, to sum up. Whether you're looking for a chatbot that is highly customised, one that is engaging and amusing, or one that can assist with a range of tasks, there is a solution for everyone. To immediately improve your chat experience, try out one of these chatbots!